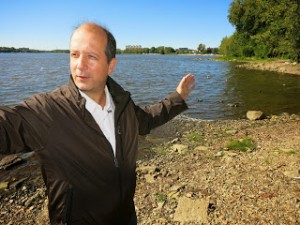 "Abord à Plouffe district is gateway to the city"


By Robert Frank
www.thesuburban.com
Movement lavallois' candidate in Abord à Plouffe plans to revive several kilometres of Laval beachfront, west of the Lachapelle Bridge, if he's elected to city council, Nov. 3.
"It's a jewel that has been neglected," Vasilios (Bill) Karidogiannis told The Suburban during a interview at St. Maxime Park, where crime currently festers, and broken beer bottles and used condoms litter a once-inviting shorefront.
"We need to pour in sand and keep it tidy and safe for kids," he emphasized. "The whole beachfront could become a major regional tourist attraction."
Karidogiannis, a Laval businessman who owns an industrial cleaning firm, wants Laval to develop a comprehensive plan that, in addition to revamping the shoreline, would include economic redevelopment for the businesses that line Labelle Blvd.
"The idea is to encourage pedestrian traffic by giving them something to go to," he explained. "We could provide sidewalks for window-shopping, beaches, bistros, art and products from local Laval farms."
Karidigiannis also wants to help the Laval Rowing Club to expand. Its popular riverfront facility has attracted so many Laval residents to its recreational and competitive programs that demand already exceeds capacity.
"Abord à Plouffe is the urban gateway to Laval," he said. "When people cross the river, they should be saying 'Wow, that's cool!' We need to install artistic lighting on the Lachapelle Bridge and build a bicycle path that would link Laval with Montreal."
Though this is the first time that Karidogiannis has run for office, he campaigned for the Non side in the 1995 referendum and has worked as a volunteer for municipal, provincial and federal candidates.
Local concerns
Speeding, he said, is a major issue for Abord à Plouffe residents.
"Most de la Seine residents complain that their street is like a raceway," Karidogiannis reported, "and drivers never respect the stop sign at the end. All of them are calling for traffic calming measures like speed bumps."
Many Laval citizens are jaded though, he said, after years of alleged municipal corruption and collusion.
"Residents in Abord à Plouffe's underprivileged areas told me 'you are the first politician to come and see us for years.'"
The district has a huge disparity in income. While shiny luxury residential towers and private marinas line the shore of Île Paton—where former mayor Gilles Vaillancourt has a condo—The Suburban reported last week that newly released figures from Statistics Canada show that Abord à Plouffe also has a higher proportion of low-income families than most of Laval.
"[If I'm elected,] I'm not staying for more than two terms," Karidogiannis vowed. "I have children and I want to leave something better for them. There's an Ancient Greek saying that translates: 'Leave the city better than you found it.'"
"That's what I want to do," he concluded.

Vasilios (Bill) Karidogiannis believes a beautified Abord à Plouffe shoreline would draw visitors to Laval from far and wide.
(Photo © Robert Frank)
(function(i,s,o,g,r,a,m){i['GoogleAnalyticsObject']=r;i[r]=i[r]||function(){
(i[r].q=i[r].q||[]).push(arguments)},i[r].l=1*new Date();a=s.createElement(o),
m=s.getElementsByTagName(o)[0];a.async=1;a.src=g;m.parentNode.insertBefore(a,m)
})(window,document,'script','//www.google-analytics.com/analytics.js','ga');
ga('create', 'UA-45892555-1', 'robertfrankmedia.blogspot.com');
ga('send', 'pageview');