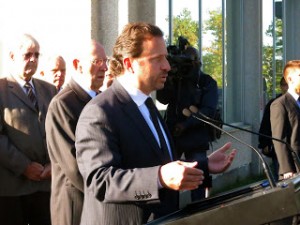 PCBs to be gone in 48 hours, decontamination to take weeks
By Robert Frank
www.thesuburban.com
Quebec Environment Minister at last moved, yesterday morning, to clean up polychlorinated byphenyls (PCBs) stored illegally at Reliance Power Equipment's premises on Hymus in Pointe Claire.
Yves-François Blanchet told reporters that the province "will spend at least $3 million to decontaminate the site, as well as several hundred thousand dollars to erect more secure fencing and install security cameras."
For the past three weeks, two Montreal police cruisers have been stationed 24-hours-a-day at the rear of the facility and Pointe Claire Public Security officers at the front, in order to prevent mischief.
Although the chemical is quite stable – the very reason they were used in electrical transformers – PCBs, which are stored in highly flammable oil, can be transformed into toxic chemicals if they are exposed to high temperatures.
"Citizens of Pointe Claire were obviously worried," acknowledged Mayor Bill McMurchie. "Some residents whose properties are in relatively close proximity had some questions with respect to safety. The [Environment] Ministry's takeover certainly alleviates some of those fears."
According to Blanchet, the offending PCBs will be removed from the site by tomorrow, though "the decontamination of the site will take several weeks."
The Environment Ministry moved after having given Reliance until midnight, Friday, Sept. 13, to see to the cleanup.
"The company appears to have fallen into obsolescence over the years," Blanchet observed. "It does not appear to be the outcome of ill will. [Reliance] wanted to show its good faith during the past few weeks."
He added that Quebec has moved to take out a mortgage on Reliance's property and assets, to help recover the money taxpayers will spend to tidy up the mess.
"I send out the bills, but I can't ensure that they're paid," quipped the minister.
Blanchet said that the companies who sent their PCBs to Reliance could also be responsible—possibly criminally—for their illegal storage. He declined to specify whether the PCBs originated in Quebec.
The province's electrical utility monopoly Hydro Quebec was, in the past, a major user of PCBs in its transformers, although it recently told The Suburban that PCBs from its recently dismantled substation on Donegani in Pointe Claire had been shipped to Ontario for disposal.
Environment Minister Yves-François Blanchet (centre) declined to specify whether polychlorinated bipheynyls stored illegally in Pointe Claire originated in Quebec. Mayor Bill McMurchie (to his left) said his city is entirely satisfied with the Environment Ministry's cooperation. At extreme left is city councilor and mayoral candidate Morris Trudeau.
(Photo © Robert Frank)
(function(i,s,o,g,r,a,m){i['GoogleAnalyticsObject']=r;i[r]=i[r]||function(){
(i[r].q=i[r].q||[]).push(arguments)},i[r].l=1*new Date();a=s.createElement(o),
m=s.getElementsByTagName(o)[0];a.async=1;a.src=g;m.parentNode.insertBefore(a,m)
})(window,document,'script','//www.google-analytics.com/analytics.js','ga');
ga('create', 'UA-45892555-1', 'robertfrankmedia.blogspot.com');
ga('send', 'pageview');