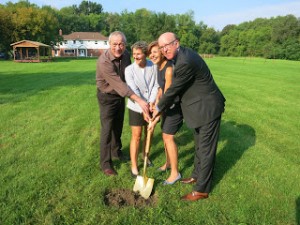 By Robert Frank
www.thesuburban.com
Construction firm Consoltec has been awarded the contract to build Batshaw Youth and Family Centres' new open-custody facility for troubled youth in Beaconsfield and will begin digging by the end of September.
The many-windowed building will occupy just 17 per cent of the site. According to architect Louise Bédard, it will be certified to a stringent environmental standard known as LEED Silver and comprise 72 geothermal wells for heating.
"I won't hide that there was a certain level of trepidation, anxiety and concern when this project was first announced," city Councillor Pierre Demers acknowledged during a Sept. 11 sod-turning ceremony.
Today, Beaconsfield Citizens Association member Al Gardiner reports that he is satisfied that Batshaw has responded satisfactorily to every single concern that citizens have raised.
"In January we had a big surprise, because no one seemed to know what was going on with this $50 million project," he told The Suburban. "It should serve as a lesson to future mayors of the city to pass on information to the community and to city council."
"Together with representatives of the city, Mr. Gardiner and other citizens met with Batshaw and, at the end of the day, everyone walked out satisfied," Demers declared. "Batshaw was willing to listen to Beaconsfielders and consequently will be able to continue its amazing work here."
Meanwhile, Portage's substance abuse program, which has operated a youth residence in a brick cottage on the site for the past 12 years, won a reprieve until December 2014, when Batshaw hopes to implement its next phase of construction.
"We're still working on finding an alternative location," Portage spokeswoman Seychelle Harding told The Suburban. "We'd love to stay in the area, but there's not much suitable real estate for sale here in Beaconsfield.
The new building, which will house 24 youth, is the first phase of Batshaw's project, which is slated for completion by June 2015.
Though the regional health authority has yet to approve funding for the second phase of Batshaw construction, chairwoman Judy Martin remained optimistic.
"The agency has all our plans, which just need to be approved," she said. "We're pretty much ready to go."
"We're getting a lot of support from the agency, as well as verbal support from the ministry," Martin continued. "A senior official, Véronique Hivon, visited our existing facility in Dorval and lunched with the kids together with [Batshaw director-general] Margaret Douek."
"She has a good understanding of our kids and their needs, as well as what we do."
Martin conceded that Batshaw became wary of the not-in-my-backyard backlash that it encountered in every community where it considered locating its facilities.
"Years ago, we found an ideal site on the grounds of the Douglas Hospital," she recalled. "When neighbours found out about the project, though, Verdun city council backed down."
Despite overcoming most residents' initial objections, mayoral candidate Hela Labene told The Suburban that some of the project's neighbours remain disgruntled.
"You have to go door-to-door to understand what citizens are feeling," she said. "A 70-year-old man on Evergreen told me that he wants to sell his house within ten years, but now he can't because he will have prisoners in his back yard."
"People feel that [the equity value of their home will provide for] their retirement, but in the end these people will have to work longer."
"It's a good project, but I have to ring the bell for all those who are concerned," she concluded. "It will be a huge building, that's the sad part.
(Extreme left and right) Beaconsfield city councilors Wade Staddon and Pierre Demers fêted Batshaw chairwoman Judy Martin and director-general Margaret Douek (centre left and right) for their responsiveness to Beaconsfielders' concerns.
(Photo © Robert Frank)
The Portage substance-abuse program needs to find new premises to replace the brick cottages, slated for demolition, where its youth currently reside for 4-6 months, while they turn their lives around.
(Photo © Robert Frank)
(function(i,s,o,g,r,a,m){i['GoogleAnalyticsObject']=r;i[r]=i[r]||function(){
(i[r].q=i[r].q||[]).push(arguments)},i[r].l=1*new Date();a=s.createElement(o),
m=s.getElementsByTagName(o)[0];a.async=1;a.src=g;m.parentNode.insertBefore(a,m)
})(window,document,'script','//www.google-analytics.com/analytics.js','ga');
ga('create', 'UA-45892555-1', 'robertfrankmedia.blogspot.com');
ga('send', 'pageview');