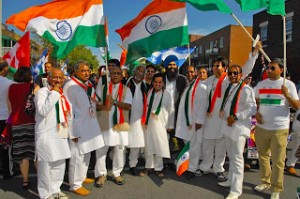 More than 6,000 Montrealers turned up for the India-Canada Organization's annual parade in Park Extension, August 18.
A host of dignitaries showed up to honour the growing importance of the South Asian event, including Tim Uppal, Justin Trudeau, Francis Scarpaleggia, Stéphane Dion, Marc Garneau, Thomas Mulcair, Lysane Blanchette-Lamothe, Gerry Slavouos, Anie Samson, Alan de Sousa, Mary Deros and Denis Coderre.
The event brings together Canadians of Indian origin, regardless of their creed, for a day of fun.
Clad in traditional garb are parade organizers (left to right) Kishore Tandon, Gulati Pt Kamal Nain, Subash Khanna, Pt Sita Ram, Tim Uppal, Jagdish Chander Sain (chairman), Dilip Shah, Naseer Mehdi Khan (president), Raj Kapoor Basu.
(function(i,s,o,g,r,a,m){i['GoogleAnalyticsObject']=r;i[r]=i[r]||function(){
(i[r].q=i[r].q||[]).push(arguments)},i[r].l=1*new Date();a=s.createElement(o),
m=s.getElementsByTagName(o)[0];a.async=1;a.src=g;m.parentNode.insertBefore(a,m)
})(window,document,'script','//www.google-analytics.com/analytics.js','ga');
ga('create', 'UA-45892555-1', 'robertfrankmedia.blogspot.com');
ga('send', 'pageview');