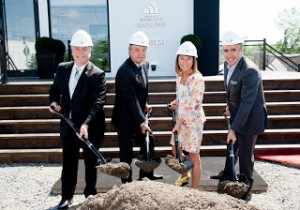 By Tracey Arial
www.thesuburban.com
LaSalle borough councillors accepted $566,990 to establish a park on Allard Street during their July borough meeting.
The payment is linked to the ground-breaking for another two towers in Quartier Angrignon that took place last month. The two towers form the first phase of the Q8 transit- and pedestrian-oriented project on a triangular lot bordered by Newman, Irwin and Allard. They will form a V on the corner.
Owners Armco Capital Inc. have already spent more than $10 million trucking away contaminated soil from the 35,907.6 square metre lot, which used to house a steel manufacturing plant.
"The decommissioning of former industrial sites is a priority for Montreal, and we are pleased to be able to contribute in our own way," said Armco's president Georges Armoyan.
Armoyan was present at the ground-breaking along with Marguerite-Bourgeoys MPP Robert Poëti, LaSalle Mayor Manon Barbe and Groupe Cholette president Michel Cholette.
Cholette is the general contractor for phase one—a 269-unit two-tower project—of Armco development. The first tower will cost $90 million to build and will begin in September. Most of the units, about 89, will consist of four-and-a-half room condos. The other 80 will consist of three-and-a-half room units and 1,600 square-foot five-and-a-half units.
"We checked for the best site for this project and Ville de LaSalle is the one," says president Michel Cholette. "In most boroughs, it's a buyer's market. LaSalle is an exception. The demand is higher than what's available there."
As soon as the 16-storey tower is sold, the second 15-storey tower will be built, but the firm has already sold about 50 of the units through a consultation process that's been occurring while the lot has undergone decontamination.
"We put up an ad on the corner of the street, and when people would phone us or contact us by email, we conducted a bit of a focus group," said Stephane Chartrand, director of sales and international development at Groupe Cholette. "We've spoken to more than 200 people, and met with about a hundred of them. We've really listened."
Chartrand says that the size of the units was very important to the people they interviewed, as were larger balconies. Some units even have very large terraces to satisfy demand. An indoor pool was less important to most of them and won't be included.
"Some of the people we spoke to have lived in LaSalle all their life and they want to move out of triplexes and duplexes. Others are from the south shore and they're tired of crossing the Champlain Bridge."
Cholette is working with St. Laurent-based architect Rabih Khazaka, who will be designing an impressive water wall to face the building. He'll design based on a Q8 concept that stands for equilibrium between eight elements: urban and suburban lifestyles, the bubbling water of the St. Lawrence rapids and the smooth surface of the Lachine Canal, Angrignon Park tranquility and Angrignon Mall shopping effervescence, and the fragility of glass with the strength of concrete.
The project isn't a LEEDs, but there are environmental aspects to it, including a ratio of only one car per unit and an in-building car-sharing service run by LibrOto company (http://en.libroto.ca) president and founder Christian Assouad.
"There will be parking spaces for buyers who choose to join the services—20 or 30 customers," said Chartrand. "The Montreal-based company has a couple of cars out. It's an hourly rate service. Access will be through the same key as for the building."
[Left to right] Robert Poëti, Michel Cholette, Manon Barbe and Georges Armoyan
(function(i,s,o,g,r,a,m){i['GoogleAnalyticsObject']=r;i[r]=i[r]||function(){
(i[r].q=i[r].q||[]).push(arguments)},i[r].l=1*new Date();a=s.createElement(o),
m=s.getElementsByTagName(o)[0];a.async=1;a.src=g;m.parentNode.insertBefore(a,m)
})(window,document,'script','//www.google-analytics.com/analytics.js','ga');
ga('create', 'UA-45892555-1', 'robertfrankmedia.blogspot.com');
ga('send', 'pageview');