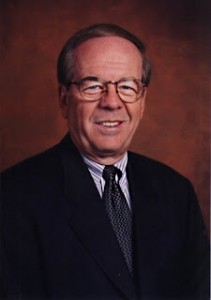 By Robert Frank
www.thesuburban.com
"The city needs a mayor with vision," declared Georges Bourelle while announcing that he is going on the hustings to be elected mayor of Beaconsfield.
"Densification is certainly going to be an issue," the retired chief executive officer of Prévost and Nova Bus corporations told The Suburban in an interview, during which he outlined Beaconsfield's fiscal dilemma.
The city faces the eye-watering cost of refurbishing and replacing its aging infrastructure such as drinking water pipes, but lacks the solid tax base of West Island cities with large industrial parks like Pointe Claire.
"In a city like ours you have two options: Stay put in terms of growth, which makes it difficult to hold the line on taxes. To offset that, you need to seek new revenue through growth."
"Densification is one option," Bourelle explained, vowing to consult Beaconsfield residents at every step of the process.
"There are not that many options in Beaconsfield," said Bourelle, acknowledging the challenge of reconciling the city's need to increase revenue with its residents' love of its leafy charm. "There are no unoccupied lots. You have to really think this through carefully. It has to be win-win for residents of the city."
"You don't want to see huge buildings in the midst of [low-rise] residential neighbourhoods," he reassured. "For example, in Beaurepaire village a big building is blocking the view from surrounding homes."
He vowed to involve residents in reaching the tough decisions that lie ahead.
"Being retired, I plan to run [Beaconsfield] more or less on a full time basis," he explained. Bourelle said that he intends to adopt "more of a hands-on approach. That will permit me to be closer to the administration, managing the city rather than being managed by the city."
"I will actively seek input from residents and hope to encourage participation through a town hall approach. I will meet with [elected] councillors on an ongoing basis. In each district, we will sit down with residents, bring them up to speed and listen to what they say."
"The input from residents will help us to reach a consensus on decisions," he added, recognizing that it will be impossible to achieve unanimity. "We need to get the message to residents and ask them: What do you think? What do you prefer?"
Bourelle believes that Beaconsfield will benefit from his broad range of business experience. He served as an executive in some of Canada's largest corporations in the energy, retail, natural resource and agribusiness sectors before joining Prévost in 1991.
After retiring, he ran the CIREM executive-in-residence training program at University of Montreal's
Haute études commerciales
business school until 2009.
"With all the experience that I have, I can contribute leadership and team-building skills," he suggested. "I want to take a business approach to running this city. I have dealt with stakeholders and negotiated with unions. The business expertise will help me to develop the right processes to manage the city well."
Elections Quebec officially approved Bourelle's application, July 24. He intends to campaign as an independent candidate, vying with District 6 Councillor Rhonda Massad, who announced her intention to run for mayor during an interview with The Suburban last year.
Citizens will go to the polls to choose their new mayor, Nov. 3.
"I love my city, Beaconsfield, and my mission is to make this beautiful and prestigious city a better place for all citizens," said mayoral candidate Georges Bourelle.
(function(i,s,o,g,r,a,m){i['GoogleAnalyticsObject']=r;i[r]=i[r]||function(){
(i[r].q=i[r].q||[]).push(arguments)},i[r].l=1*new Date();a=s.createElement(o),
m=s.getElementsByTagName(o)[0];a.async=1;a.src=g;m.parentNode.insertBefore(a,m)
})(window,document,'script','//www.google-analytics.com/analytics.js','ga');
ga('create', 'UA-45892555-1', 'robertfrankmedia.blogspot.com');
ga('send', 'pageview');