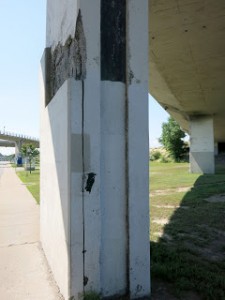 Unclear how much Pointe Claire, Dorval taxpayers will be forced to pay


By Robert Frank
www.thesuburban.com
Transport Quebec has circulated concept drawings for a replacement to the aging overpass linking Sources boulevard with Highway 20.
"The engineering diagrams that the City of Pointe Claire has date from the first feasibility study in 2011," acknowledged Caroline Larose.
The Transport Quebec spokeswoman told The Suburban that the final design that is selected to replace the current complex collection of highway bridges and a pedestrian walkway might not necessarily look like the initial drawings that it circulated to the affected municipalities.
"To develop that feasibility study, we are working together with Pointe Claire, Dorval, Montreal, the Société de Transports de Montreal and Agence métropolitain de transport," Larose said.
"Transport Quebec is still working on the study, which entails technical, hydrological and geotechnical studies," she explained.
Because Quebec has, since 1993, forced municipal taxpayers to foot the bill for maintaining and replacing automotive bridges over local railway tracks, it's unclear how much of the tab taxpayers in the three cities will be asked to pick up. Despite the downloading, the province still pays for its bridges over provincial highways.
"I cannot tell you with any degree of certainty as to [how] the ownership [of the bridge is divided]," Pointe Claire Mayor Bill McMurchie said. "I know that the pedestrian walkway is ours. I can't tell you with certainty about the rest of it."
"At this stage, it's really too early to talk about a timetable or the cost [of the project]," Larose deflected.
"I believe that Transport Quebec has that on their program within the next five years, but that was last year when I had that information," recalled Mayor McMurchie
Since the Parti québécois minority government came to power last September, major infrastructure projects throughout the West Island have remained on ice, with bridges to nowhere in Dorval, highway overpasses in Sainte Anne de Bellevue remaining closed after more than two years and no movement on the previously approved extension of Highway 440 from Pierrefonds to Highway 40 in Kirkland.
"Overpasses have one thing going against them—or going for them, depending upon your perspective," mused Mayor McMurchie. "They become dangerous."
"If a provincial government is responsible for an overpass that becomes dangerous," he noted, "their schedule could change and will change."
As reported in The Suburban three weeks ago, Pointe Claire is already on the hook to the tune of $2.2. million, to repair its parallel overpass along St. John boulevard. Rusting retaining rods have for years remained clearly visible on the retaining wall supporting the south side of the viaduct.
The decaying infrastructure leapt to public attention on July 6, 2012, when baseball sized chunks of concrete fell from the overpass onto Donegani avenue below. No one was injured in the incident.
Cracked footing, rusting reinforcement rods supporting weight of Sources overpass.
(Photo © Robert Frank)
Close-up of underside of the Sources overpass.
(Photo © Robert Frank)
Underside of the Sources overpass.
(function(i,s,o,g,r,a,m){i['GoogleAnalyticsObject']=r;i[r]=i[r]||function(){
(i[r].q=i[r].q||[]).push(arguments)},i[r].l=1*new Date();a=s.createElement(o),
m=s.getElementsByTagName(o)[0];a.async=1;a.src=g;m.parentNode.insertBefore(a,m)
})(window,document,'script','//www.google-analytics.com/analytics.js','ga');
ga('create', 'UA-45892555-1', 'robertfrankmedia.blogspot.com');
ga('send', 'pageview');