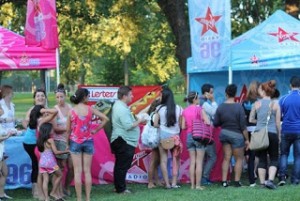 By Robin Della Corte
www.thesuburban.com
The latest installment in the annual "Movies in the Park" summer event hosted by Virgin Radio will be held in Laval tonight.
The series of events, which began two weeks ago, will be at St. Maxime Park in Chomedey at 7 p.m. This evening, the movie that will be featured in the park is Silver Linings Playbook. Free food and drink will be offered to those who attend.
Now in its 20th year, the Movies in the Park summer festival remains Virgin Radio's largest event, attracting hundreds of people every Wednesday evening to a new location.
Community waits in line for free drinks and to watch a movie in the park for the popular annual Movies in The Park summer event.
(function(i,s,o,g,r,a,m){i['GoogleAnalyticsObject']=r;i[r]=i[r]||function(){
(i[r].q=i[r].q||[]).push(arguments)},i[r].l=1*new Date();a=s.createElement(o),
m=s.getElementsByTagName(o)[0];a.async=1;a.src=g;m.parentNode.insertBefore(a,m)
})(window,document,'script','//www.google-analytics.com/analytics.js','ga');
ga('create', 'UA-45892555-1', 'robertfrankmedia.blogspot.com');
ga('send', 'pageview');