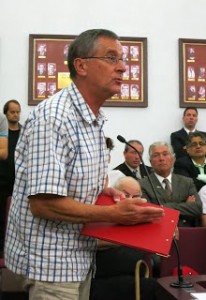 Rebuffs language intolerance


By Robert Frank
www.thesuburban.com
Martine Beaugrand has brought a new cordiality to Laval's council chamber. The new mayor succeeded in taking the hitherto hard edge off of municipal politics during her inaugural city council meeting, July 8.
Laval's first female mayor, attired—like Gandalf—all in white, entered the chamber to polite applause, then proceeded to charm councillors and spectators alike during the ensuing three-hour session. She voiced openness to public consultation, in stark contrast to the preceding succession of dark-suited strongman mayors.
Beaugrand opened the session with two memorials: one for those who perished in the inferno at Lac Mégantic, two days earlier, pledging to send support to the survivors (see accompanying report); the other for recently deceased councillor Francine Légaré, presenting flowers to the breast cancer victim's two children, following a minute of silence.
In light of longstanding accusations of corruption at city hall, which landed Laval in trusteeship last month, she also read a statement pledging to restore confidence in municipal administration, undertaking to "change the [city's political] culture."
Lastly, Beaugrand made it clear that the mayor's office is, for her, just a temporary gig.
"I plan to run as an independent councillor to represent Fabreville district," during the next municipal election, Nov. 3, she vowed.
During the meeting, Beaugrand—who has long championed the environment—was receptive to citizens' calls to look more deeply into the risks posed by Smart Meters; development of the Bois d'Équerre forest; and Enbridge's proposal to reverse the flow in its oil pipeline through Laval.
She underscored that she had not had time to master the topics during her three working days thus far in office, but pledged to meet with the city's environment director, Gilles Benoît, to review the files.
"I took my own initiative to look into [smart meters] with Health Canada," she said. "I'm open to receiving more information and to sharing that information."
Asked whether she would continue to drive the luxury Lexus recently acquired for her predecessor, Alexandre Duplessis, Beaugrand replied that she had asked to use the city's previous vehicle, a Chevrolet Volt, which runs mainly on electricity.
"English is not illegal"


Language activist Kevin Lefebvre lashed out at Beaugrand vigorously during question period.
"You're breaking the law," he accused the new mayor. "Laval doesn't have bilingual status."
"Why is Laval breaking Bill 101?" he asked, though he failed to provide specifics. "I'm married to an anglo. I've lived elsewhere in Canada. I have nothing against them. But it costs money to taxpayers [to provide information in English.]"
Beaugrand told Lefebvre that the city "translates parts of texts to make them more accessible to the population of Quebec."
"It's not illegal to express oneself in English in Quebec," she reminded him. "The manner in which it is done is what matters."
Mayor Martine Beaugrand reminded vociferous Laval language activist Kevin Lefebvre that English is tolerated in Quebec.
(Photo © Robert Frank)
(function(i,s,o,g,r,a,m){i['GoogleAnalyticsObject']=r;i[r]=i[r]||function(){
(i[r].q=i[r].q||[]).push(arguments)},i[r].l=1*new Date();a=s.createElement(o),
m=s.getElementsByTagName(o)[0];a.async=1;a.src=g;m.parentNode.insertBefore(a,m)
})(window,document,'script','//www.google-analytics.com/analytics.js','ga');
ga('create', 'UA-45892555-1', 'robertfrankmedia.blogspot.com');
ga('send', 'pageview');