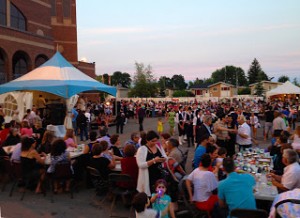 By Robin Della Corte
www.thesuburban.com
This year's annual Greek summer festival was a huge success, attracting just over 4,000 people during its three days.
The festival began on Saturday, June 29 and ended on Monday, July 1.
"The weather wasn't the greatest," Holy Cross Church secretary Christina Mamolos said. "The length of the festival always depends on the weather each year."
The festival again this year was held in the Holy Cross Church parking lot in Laval.
The festival featured traditional food, music, dancing, games, rides for the children as well as a visiting singer from Greece. Dance groups from the Portuguese community as also attended.
The biggest turnout, last Sunday, saw a record 3,000 people show up. All proceeds went to aid churches in Laval and Montreal, as well as some schools.
The Greek summer festival has been going on since the 1980's.
"The festival is always for the community," she said.
Normally, the festival would include fireworks, but this year was an exception, due to the city's strict rules restricting their use.
"It's always great to dance, especially in front of a big crowd like this past weekend and always a great feeling to represent the Cretan association," said Michael Revelakis, who dances each year at Laval's Hellenic summer festival. "The whole atmosphere of everybody dancing and talking to each other in Greek, meeting new people and just being together is an awesome feeling, not just for me but for everyone who attends."
(function(i,s,o,g,r,a,m){i['GoogleAnalyticsObject']=r;i[r]=i[r]||function(){
(i[r].q=i[r].q||[]).push(arguments)},i[r].l=1*new Date();a=s.createElement(o),
m=s.getElementsByTagName(o)[0];a.async=1;a.src=g;m.parentNode.insertBefore(a,m)
})(window,document,'script','//www.google-analytics.com/analytics.js','ga');
ga('create', 'UA-45892555-1', 'robertfrankmedia.blogspot.com');
ga('send', 'pageview');