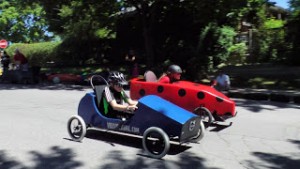 By Robert Frank
www.thesuburban.com
The Laval soapbox derby association plans to hold its first race of the year in on Gouin street in Sainte Dorthée at 9:30 a.m., July 13.
They feature small homemade cars that run down a hill, relying entirely on gravity for locomotion. Top racers have attained speeds of more than 55 km/h during the under 30-second heats.
The non-profit organization Les Courses de boîtes à savon, which conducted its first race in Chomedey in 2001, tries to foster family-centered activities aimed at Laval youth.
The idea is to get kids aged 7-14 working together with their parents to build a soapbox racing car.
Information on how to participate or volunteer to help is available on Les Courses de boîtes à savon web site at: www.boiteasavonlaval.com
Emphasis is placed on making and decorating the homemade vehicles, taking part in the race and having fun, rather than on winning. All participants earn a medal and are eligible for the door prize drawing.
The organization also has a number of soap-box racers and holds a drawing to permit a few lucky youngsters to use the vehicles, free-of-charge. Enquiries can be directed to: concours@boitesasavonlaval.com
Soapbox derbies originated in the United States a century ago, and were featured in the Charlie Chaplin film Kid Auto Races at Venice in 1914. During the Great Depression, a national competition was organized in the United States, and the homegrown sport has since spread to many other countries.
There is a Canadian soapbox racing association as well as a Quebec counterpart.
Kids take part in a 2012 Laval soapbox derby
(function(i,s,o,g,r,a,m){i['GoogleAnalyticsObject']=r;i[r]=i[r]||function(){
(i[r].q=i[r].q||[]).push(arguments)},i[r].l=1*new Date();a=s.createElement(o),
m=s.getElementsByTagName(o)[0];a.async=1;a.src=g;m.parentNode.insertBefore(a,m)
})(window,document,'script','//www.google-analytics.com/analytics.js','ga');
ga('create', 'UA-45892555-1', 'robertfrankmedia.blogspot.com');
ga('send', 'pageview');