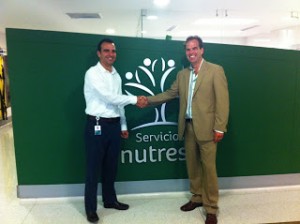 By Robert Frank
www.thesuburban.com
Leaders of two Laval companies were in Colombia during the past two weeks, the first to offer their services in order to fill a void in north-south trade. That could lead to more lucrative opportunities during the coming year, according to Laval Technopole international business director Véronique Proulx.
Proulx said that Laval Technopole has singled out four Laval business whose profile makes them an extremely good fit: residential and commercial lighting and central vacuum specialists Nadair; strategic initiative consultants Umalia; bone graft manufacturer Citagenix; and business process engineering expert Clermont Consulting Group (CCG).
"Colombia is one of the easiest markets in North America to do business with," she told The Suburban in an interview, "and Canada also has a free trade agreement with Colombia."
Proulx explained that Laval Technopole has been methodically preparing the four firms since a Canadian trade mission last year identified export opportunities for Laval firms. It provides coaching, market analysis and organizes meetings via the internet-videoconferencing service Skype.
"We conducted market studies to ensure that this was the right market for these companies," she said, "and when they come back, we provided a consultant to help them follow up on their leads: Transporation, logistic and legal aspects—whatever comes up—so that they have what they need to follow up on continuing to develop these markets."
CGG president Maxime Clermont was in Medellin, Colombia's second-largest city, last week and, as The Suburban went to press, word of a possible deal remained pending.
Two more Laval-Colombia trade visits are planned for September.
Laval Technopole has aggressively sought out international export opportunities to boost the economy of Quebec's third largest city.
In April, it hosted U.S. Consul General Andrew Parker, and trade representatives of Florida, Pennsylvania, Arizona and Florida, in order to boost business with regions of the United States "where not enough Laval companies export," Proulx, ever eager to spy opportunity, told The Suburban.
(Right to left) CCG president Maxime Clermont met Grupo Nutresa director of logistics in Medellin, Columbia, June 26. The Suburban was awaiting word, as it went to press, of a deal between the Laval firm and the billion-dollar manufacturer—Latin America's fourth largest food company.
(function(i,s,o,g,r,a,m){i['GoogleAnalyticsObject']=r;i[r]=i[r]||function(){
(i[r].q=i[r].q||[]).push(arguments)},i[r].l=1*new Date();a=s.createElement(o),
m=s.getElementsByTagName(o)[0];a.async=1;a.src=g;m.parentNode.insertBefore(a,m)
})(window,document,'script','//www.google-analytics.com/analytics.js','ga');
ga('create', 'UA-45892555-1', 'robertfrankmedia.blogspot.com');
ga('send', 'pageview');