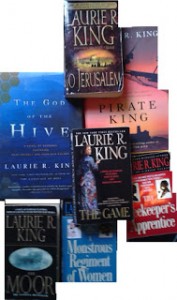 By Tracey Arial
www.arialview.ca
Sherlock Holmes meets his match in a formidable new enemy—and his surprising new partner
This statement on the front cover of The Beekeeper's Apprentice made me put the book down several times before I finally bought it. I was sure it was just hype.
It wasn't.
Laurie R. King's series about Mary Russell and Sherlock Holmes is even more fun to read than the original series. It begins with a chance meeting of the two heroes in a field. Sherlock you know. Mary Russell is a young female with many of the same quirks, including brains, know-it-all tendencies and independence.
"I am watching bees," Sherlock tells Mary upon meeting her.
The book continues from inside Mary's head.
There were indeed bees, industriously working at stuffing pollen into their leg sacs of theirs, moving from flower to flower. I watched, and was just thinking that there was nothing particularly noteworthy about these bees when my eyes were caught by the arrival of a peculiarly marked specimen. It seemed an ordinary honeybee but had a small red spot on its back.
This brief conversation begins our introduction to Mary Russell. In a few paragraphs, Laurie R. King sets up a female version of the famous detective, who has retired by the time of these stories. The first book contains fourteen short mysteries that tie together to show a growing friendship and the making of a partnership between our heroine and the famous directive.
That first book is the beginning of a series that now encompasses twelve books. I have read seven of them. Each has been more enjoyable that its predecessor. King's stories are fascinating, not just because of the mysteries they contain, but also because her new female character and her version of Sherlock Holmes honour and extend the original Sherlock Holmes stories.
They are contained within a farcical story about the original author sending them as manuscripts—an additional fun premise that fits the entire design.
The stories so far are:
The Beekeepers Apprentice, 1994
A Monstrous Regiment of Women, 1995
A Letter of Mary, 1997
The Moor, 1998
Jerusalem, 1999
Justice Hall, 2002
The Game, 2004
Locked Rooms, 2005
The Language of Bees, 2009
The God of the Hive, 2010
Pirate King, 2011
Garment of Shadows, 2012
The entire series is outlined in more detail on the author's website.
I highly recommend these well-written novels.
They're almost as good as Sherlock, the BBC's television program about a modern Sherlock Holmes. The television series manages to modernize and renew the Sherlock Holmes stories while also keeping the original character intact.
(function(i,s,o,g,r,a,m){i['GoogleAnalyticsObject']=r;i[r]=i[r]||function(){
(i[r].q=i[r].q||[]).push(arguments)},i[r].l=1*new Date();a=s.createElement(o),
m=s.getElementsByTagName(o)[0];a.async=1;a.src=g;m.parentNode.insertBefore(a,m)
})(window,document,'script','//www.google-analytics.com/analytics.js','ga');
ga('create', 'UA-45892555-1', 'robertfrankmedia.blogspot.com');
ga('send', 'pageview');