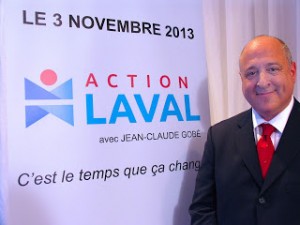 By Robert Frank
www.thesuburban.com
Archie Cifelli thinks that the city can do more for Laval's youthful residents, and has thrown his hat into the ring in this fall's municipal election to try to do something about it.
"We need to try to create social centres for our youth," the Action Laval party candidate for city councilor in Val des Arbres district told The Suburban in an interview. "Many youth become delinquent because they don't have anything to do. These are good kids. We need to create somewhere for them to go to become involved in activities that are tailored for them."
Cifelli has, since 2000, been actively involved in the community, with its strong French, English and Italian population.
"I've been on the board of the Don Bosco youth centre in Rivière des Prairies for the past four years, and I've seen what they are doing there with a limited budged but great talent," he observed.
"What they are doing for youth in their area of Laval is amazing," he enthused, "and I want to try to replicate that in our area."
"On the other hand, I have met many of the elderly residents of the district, and there is also a need for services for them," Cifelli added, noting that transportation can often be an issue, as people age. "There are free activities at the Pavillon Boisé on St. Martin, but a lot of elderly people don't have the means to get there. They need help."
He vowed to try to improve transportation services to such activities and medical facilities.
"I'm sure that there are a lot of opportunities in terms of logistics and want to see what we can do to help them out," Cifelli said.
Cifelli also has his eye on the district's road infrastructure.
"In our sector, there are two exits off of highway 440 for Val des Brises," he observed. "I would like one of them closed to give Val des Brises residents a break from constant traffic."
"Those are the three issues that I want to start with," Cifelli concluded. "During the next few months, I will be sounding out Val des Arbres residents to find out what other issues affect people the most."
Achille (Archie) Cifelli will be Action Laval's candidate for city councillor in Val des Arbres district.
(function(i,s,o,g,r,a,m){i['GoogleAnalyticsObject']=r;i[r]=i[r]||function(){
(i[r].q=i[r].q||[]).push(arguments)},i[r].l=1*new Date();a=s.createElement(o),
m=s.getElementsByTagName(o)[0];a.async=1;a.src=g;m.parentNode.insertBefore(a,m)
})(window,document,'script','//www.google-analytics.com/analytics.js','ga');
ga('create', 'UA-45892555-1', 'robertfrankmedia.blogspot.com');
ga('send', 'pageview');