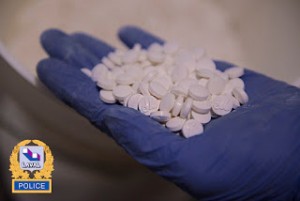 Massive drug bust, boat thieves busted, dry cleaner torched
By Robert Frank
www.thesuburban.com
With thousands of students graduating from high school this week, Laval police are reminding the class of 2013 not to get behind the wheel of a vehicle, if they've imbibed any alcohol.
Const. Nathalie Lorrain illustrated the risks with a June 7 court judgment, where a St. François man pleaded guilty in a case stemming from a 2012 accident on Mille Îles Boulevard in Laval.
The passenger in his car was taken to hospital and later died of her injuries.
"Because of the death, Dany Valiquette-Pronovost was sentenced to three years in prison for dangerous driving causing death, criminal negligence causing death as well as driving under the influence," Const. Lorrain told The Suburban.
Lorrain said that it's a cautionary tale.
"Your life can be turned completely upside down, simply for having driven a bit too fast and having one drink too many," she warned.
Pill producers popped

Laval police seized a record mountain of illegal drugs, during a massive police operation, early June 11.
Dubbed Operation Harvest, 385 police officers from a dozen municipalities including Laval, Montreal and the Lanaudière and Laurentian regions descended on production facilities with search warrants.
"Sixteen of the 36 raids were in Laval, six in Montreal and most of the rest in the Laurentians," Const. Franco di Genova told The Suburban.
The operation netted more than nearly 1.2 million pills, 46.2 kg of methamphetamine powder, enough to make another 850,000 pills, $483,000 in cash, more than 200 kg of drug-making ingredients, three hydraulic presses, 3.2 kg of cocaine, 48 kg of cannabis, eight firearms and a bullet-proof vest.
Police arrested 43 suspects on charges of trafficking, possession for the purposes of trafficking, conspiracy and illegal possession of firearms.
Many of the 1.2 million pills police seized last week were embossed with the Montreal Expos' logo.
Illegal drug labs used hydraulic presses to produce pills.


Hapless boat thieves arrested
A Frégault street resident called 911 after he saw three men in their early 30's hook their vehicle to a boat trailer in his neighbour's driveway in northern Chomedey.
"When they tried to depart with it, the trailer's receiver came off the vehicle's hitch, because they hadn't attached it properly," reported Const. Lorrain. "Patrol officers happened to be at the corner of the street, so they reached the scene in seconds, where they arrested two of the three men. The third suspect remains at large."
"The boat was valued at $65,000, and the trailer was worth $5,000," she added.
One of the pair who were arrested was released pending trial. As The Suburban went to press, the other remained in police custody, awaiting another court hearing.
Suspicious blaze


Laval firefighters called police just after midnight, June 10, after they extinguished a blaze at a St. François district dry cleaner.
"There was a strong scent of gasoline in the ventilation system on the roof of a dry cleaner at 1235 Dumoulin," said Const. Lorrain. "They found that gasoline was probably poured into the ventilation system. Damage was relatively minor, limited to the ventilation system and as well as what was caused by the water used to douse the fire."
(function(i,s,o,g,r,a,m){i['GoogleAnalyticsObject']=r;i[r]=i[r]||function(){
(i[r].q=i[r].q||[]).push(arguments)},i[r].l=1*new Date();a=s.createElement(o),
m=s.getElementsByTagName(o)[0];a.async=1;a.src=g;m.parentNode.insertBefore(a,m)
})(window,document,'script','//www.google-analytics.com/analytics.js','ga');
ga('create', 'UA-45892555-1', 'robertfrankmedia.blogspot.com');
ga('send', 'pageview');