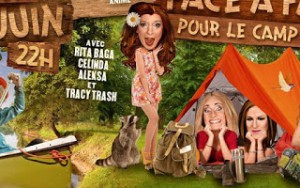 By Tracey Arial
www.thesuburban.com
Catholic Community Services
(CCS) are currently raising funds and accepting registration requests for Camp Positive, a one-week bilingual camp for adults older than 18 years who are living with HIV/AIDs.
The highlight of their promotions is Face to Face for Camp Positive, a fundraiser at Cabaret Mado, 1115 Sainte Catherine East at the corner of Amherst.
The evening takes place on Thursday, June 13, from 8:30 p.m.-3 a.m.
Two of our campers will be featured in the show and we really hope that a lot of people will join the fun for a wonderful cause," said Ashley Allen, CCS Camps Coordinator. "Every year we host 100 campers at Camp Positive and ensure that they have the opportunity to enjoy the great outdoors and enjoy the company of others in a safe and healthy environment."
The fundraiser has a Facebook page.
Allen says that some 30 organizations, including Centraid, partner with CCS to make the camp possible. It takes place at Camp Kinkora, between St. Adolphe d'Howard and Sainte Agathe from July 28-August 3.
This week long retreat provides our campers with the serenity of the Laurentians where yoga classes, art workshops, sports activities and massages, are all geared at helping our campers take care of their body and mind," said Allen. "At CCS we are conscious of the stress and daily struggles HIV can have on our campers' lives."
(function(i,s,o,g,r,a,m){i['GoogleAnalyticsObject']=r;i[r]=i[r]||function(){
(i[r].q=i[r].q||[]).push(arguments)},i[r].l=1*new Date();a=s.createElement(o),
m=s.getElementsByTagName(o)[0];a.async=1;a.src=g;m.parentNode.insertBefore(a,m)
})(window,document,'script','//www.google-analytics.com/analytics.js','ga');
ga('create', 'UA-45892555-1', 'robertfrankmedia.blogspot.com');
ga('send', 'pageview');