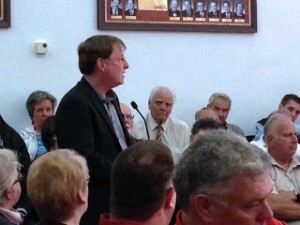 By Robert Frank
www.thesuburban.com
A 30-year veteran of the Laval police force who once served a search warrant on his employer, former mayor Gilles Vaillancourt, is reportedly contemplating running for his former boss' job and will lead the Mouvement Lavallois' campaign for municipal office when Laval citizens go to the polls again, Nov. 3.
Marc Demers twice ran for the Parti québécois in Laval des Rapides riding during provincial elections in 2007 and 2008, but was defeated each time by Liberal Alain Paquet. During last years' provincial campaign, Quebec premier Pauline Marois sidelined Demers so she could run star youth candidate Léo Bureau-Blouin in Laval des Rapides.
Demers joined Mouvement Lavallois in November. Founded by David de Cotis in 2008, mayoral candidate Lydia Aboulian led the municipal poitical party's candidates into the most recent municipal election in 2009. None of them were elected to office.
Demers said, May 9, that he welcomed the arrest of Vaillancourt and many of his longstanding associates, because they will not benefit from the immunity granted by the ongoing investigating into corruption in Quebec's construction industry.
"Their testimony before the Charbonneau commission cannot be used subsequently in a criminal trial against them," he explained. "Those people were elected with dirty money."
Following ensuing allegations before the commission, May 30, that Vaillancourt's successor as mayor, Alexandre Duplessis, was involved in illegal political financing, Demers called upon Quebec's Minister of Municipal Affairs to place the city under trusteeship.
Demers said that before the Charbonneau commission was formed, he had filed a number of formal accusations of financial wrongdoing in Laval and had testified against Laval's former police chief and other police officials.
Former Parti québécois candidate posed questions during Laval city council meeting, June 3.
(function(i,s,o,g,r,a,m){i['GoogleAnalyticsObject']=r;i[r]=i[r]||function(){
(i[r].q=i[r].q||[]).push(arguments)},i[r].l=1*new Date();a=s.createElement(o),
m=s.getElementsByTagName(o)[0];a.async=1;a.src=g;m.parentNode.insertBefore(a,m)
})(window,document,'script','//www.google-analytics.com/analytics.js','ga');
ga('create', 'UA-45892555-1', 'robertfrankmedia.blogspot.com');
ga('send', 'pageview');