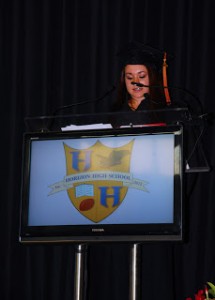 By Robert Frank
www.thesuburban.com
"It's a historic graduation ceremony, because it's the first one," enthused Horizon High School principal Grant Thomas.
The newest high school on the West Island held two celebrations, May 30. They kicked off festivities with a barbecue for students who had completed the school's hands-on career program, and followed-up with a traditional convocation for its Grade 11 academic graduates that evening.
During Thursday's celebrations, students who completed the career program learned that an anonymous donor had contributed funds to pay for the fees for those who will be continuing their studies at trade school.
Horizon has generated considerable interest since it was officially declared a high school just one year ago, when Lester B. Pearson School Board took the initiative to forge its array of alternative youth programs into a single school in Pointe Claire.
"It made a huge difference when we were vaulted to being a school," affirmed Shawn Millet, who for seven years has taught in various LBPSB alternative programs. "It gave the kids a sense of ownership in their own school and pride in the place that they come to."
"Our school gives a home to students who didn't fit into the academic mainstream and have really found a home here," he added. "The graduation celebrated their accomplishments. Some will be going on to college; others to vocational schools. They have goals now, have done well and I'm pretty proud of them."
"We always encourage the kids to take part in decisions that will affect their lives," said teacher Erica Jacques, who emphasized the importance of giving the youth back some control. "They're often surprised when we ask them 'What do you think?', because they're not used to being asked."
"We provide a safe, loving environment where they can thrive and where they can be as successful as possible," she continued. "When the students walk in, you can see that they want to be here by the look on their faces, by the way that they smile in the morning—even the toughest ones."
Jacques noted that some parents are initially apprehensive about the prospect of their child going to Horizon, "while others are thankful that there is somewhere their son or daughter can go, rather than drop out."
Class sizes are much smaller than elsewhere, and schedules flexible, permitting staff to individualize their teaching more, and focus on helping students to overcome specific challenges.
"It makes a big difference coming from classes of 25-30 to 12," Jacques affirmed.
Jacques and Millet both teach in the school's career program, which arranges internships that provide work experience for students.
"They're required to work 1-2 days per week in an area of interest to them," said Jacques. "Neither is it the last stop. We have students who are in CEGEP and trade school now, and some who are working in the field [that they studied here]."
"Their internships are not automatic," Millet underscored. "They have to be interviewed by their prospective employer. We teach them how to prepare their curriculum vitae and comport themselves at interviews. It's part of the curriculum."
"So they get real-life experience in something that interests them which they think they might want to do for their career."
"I only see our school growing in numbers," Millet added.
"I sense a difference here now that we are a school," concluded Thomas. The students feel that this is now their school. When someone asks them 'Where did you go to school?', they now they can answer: 'Horizon'."
The Rt. Hon David Johnston awarded the Governor General's medal for academic achievement, together with a note of encouragement, to Horizon High School's first valedictorian, Jade Penelope Clouette.
(function(i,s,o,g,r,a,m){i['GoogleAnalyticsObject']=r;i[r]=i[r]||function(){
(i[r].q=i[r].q||[]).push(arguments)},i[r].l=1*new Date();a=s.createElement(o),
m=s.getElementsByTagName(o)[0];a.async=1;a.src=g;m.parentNode.insertBefore(a,m)
})(window,document,'script','//www.google-analytics.com/analytics.js','ga');
ga('create', 'UA-45892555-1', 'robertfrankmedia.blogspot.com');
ga('send', 'pageview');