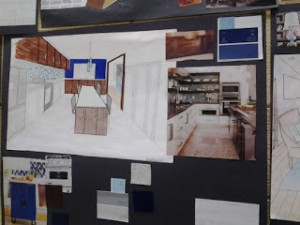 By Tracey Arial

St. Lawrence Academy's fourth annual Art Expo took place in LaSalle all-day last Thursday and Friday morning. The senior campus gym on Rancourt was particularly full on Thursday night, with some 500 people attending until the show closed at 8:30 p.m.
Kitchen redesign plans by grade six student
"[Senior art teacher Marie-France Fitzgerald] focussed more on architecture, buildings and allusions," says participant Christina Lemoyne Elliott, who is now in grade six. "I found that cool because we got to do different things than what we did last year and the years before."
Principal Fullerton-Kelly next to the school's antibullying quilt
Visitors got a sense of the many types of learning as we walked past the bright pink anti-bullying quilt to enter an art gallery full of recognizable images. Rented steel construction walls led us along a maze past drawings and photos of kitchens and bathrooms that wouldn't be out of place at a home show.
We also got to see many versions of multi-coloured works, from a photograph of Montreal's convention centre surrounded by miniature stained glass windows to golden prints of Chinese lanterns.
We toured around the world, from Frank Lloyd Wright's Falling Waters to Edward Hopper's diners and from Van Gogh's fields to James Rizzi's cityscapes.
Handiwork included: models of skyscrapers made of towering staples, a mosaic table, a 3-D model of a Roman coliseum, and an impressive stone wall that students built with the help of a father with masonry skills.
Lemoyne Elliott says that students not only learned the techniques behind creating drawings, models and photographs, but they also considered perspective, place and emotion to a greater extent than ever before.
Her work is scattered throughout the show thanks to various art classes, and because she's also part of the photography club that met after school throughout the year. Her favourite was the grade six photography project in which students placed photo cut-outs of themselves on pictures of high schools where they plan to go next year.
"Last year, it was just a photo of the students with their emotions and a memo about how they were feeling; but this year, they were placed on the schools. I found it fun to have the schools and all the students there."
Art teacher Tara Prokosh in front of her students' drawings
Next to the photographs of high schools were a series of surprisingly-realistic drawings of the junior campus done by students in kindergarten, grade one and grade two, in part because their teacher could explain difficult concepts to them with new technology.
"Children who are 8 years old and under have a difficult time with perspective," said Tara Prokosh, the art teacher at the junior campus. "I was able to use the SMART board to divide up the buildings and show them corners, edges and other difficult spots."
Senior campus principal Jane Fullerton-Kelly said that the quality of the drawings by many of the children garnered enthusiastic surprise from parents.
For more information, contact either campus at the school at:
http://stlawrenceacademysr.lbpsb.qc.ca/
or
(function(i,s,o,g,r,a,m){i['GoogleAnalyticsObject']=r;i[r]=i[r]||function(){
(i[r].q=i[r].q||[]).push(arguments)},i[r].l=1*new Date();a=s.createElement(o),
m=s.getElementsByTagName(o)[0];a.async=1;a.src=g;m.parentNode.insertBefore(a,m)
})(window,document,'script','//www.google-analytics.com/analytics.js','ga');
ga('create', 'UA-45892555-1', 'robertfrankmedia.blogspot.com');
ga('send', 'pageview');