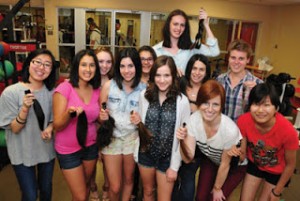 By Kevin Woodhouse
www.thesuburban.com

Jordana Vamos, guidance counselor for Kuper Academy, noticed that while many students were willing to give to others less fortunate in the community, many solutions came from writing a cheque or raising money. When Vamos found out about the non-profit organization Locks of Love, she knew she had found a charity where students could really make a worthy sacrifice, donate their hair so that the company can recycle them as hairpieces for children under 21 suffering from illness.

And despite the fact the the graduation ball is on the horizon, ten intrepid students were willing to cut off their ponytails for the cause. The event took place last week with Vamos also taking part in cutting off some of her own locks.

"I've been told I have nice hair and I'm worried as it will grow back," said Vamos. "Even though long hair is in fashion, we decided to go for it and we even had some male staff and students shave their heads in solidarity."

Another initiative to raise money for the cause is the upcoming raffle where four teachers' name will be drawn and the lucky winners will get to style the teacher's hair in the manner of their choice for one full school day.

Vamos was impressed with the students who did take part since the recipients are in their own age group so "this is kids helping other young people suffering from medical hair loss."
The money raised, as well as the collected hair, will be sent to the U.S. company to be processed into new hairpieces.
Kuper Academy students Courtney Witter (back row) and (front row, left to right) Shuk Ting Chan, Sabrina Jivkov, Emmanuelle Bataille, Emily di Giacomo, Michaela Zlatanovska, guidance couselor Jordanna Vamos, Meghan Dalton, Adèle Currin and Zi Yue Wang proudly display their hair they have cut off to benefit Locks of Love, a non-profit organization that makes hairpieces for youth under 21 who suffer from illness.
(function(i,s,o,g,r,a,m){i['GoogleAnalyticsObject']=r;i[r]=i[r]||function(){
(i[r].q=i[r].q||[]).push(arguments)},i[r].l=1*new Date();a=s.createElement(o),
m=s.getElementsByTagName(o)[0];a.async=1;a.src=g;m.parentNode.insertBefore(a,m)
})(window,document,'script','//www.google-analytics.com/analytics.js','ga');
ga('create', 'UA-45892555-1', 'robertfrankmedia.blogspot.com');
ga('send', 'pageview');