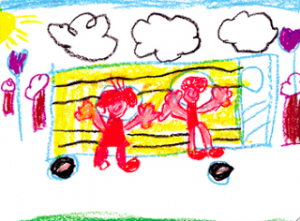 By Robin Della Corte
www.thesuburban.com
Five young Laval residents have won a drawing contest aimed at promoting public transit among Laval youth.
The Société de transport de Laval (STL) paired up with Fondation Monique Fitz-Back to organize a program which would encouraged elementary school students to depict their vision for Laval transit, and for college and university students to design transit-themed advertising posters.
Elementary school students Samuel Boutin Livernois, Sarah Ghannem, Raphael Fortin all won for the drawing contest entitled "The future of transportation: my vision" and Amelie Bissonnette-Montminy (college) and Nadège Dionne-Tremblay (university) won for the advertising posters Change the flow of traffic!
In coming weeks, the winners of "The future of transportation: my vision" drawing contest for elementary schools on Montreal-Laval territory can expect to see their works portrayed on more than 125 STL buses.
The two advertising posters in the Change the flow of traffic! college and university contest; they will also be seen in mid-May, making the rounds of the major cities in Quebec, including Laval.
In addition to the first component of the program, the program also featured an educational component, designed for elementary school students. The kit consisted of a workbook and a document covering the major transit-related issues.
The project aimed to increase youth awareness of alternatives to single-occupancy vehicles. It encouraged students to get involved by engaging in the quest for more sustainable mobility solutions.
"The program's goal is to promote public transit to children," STL spokeswoman Marie-Céline Bourgault said. "We want them to use public transit."
Sarah Ghannem, who attends St. Catherine of Siena School was recognized for her winning drawing in Laval's Future of Transit contest.
(function(i,s,o,g,r,a,m){i['GoogleAnalyticsObject']=r;i[r]=i[r]||function(){
(i[r].q=i[r].q||[]).push(arguments)},i[r].l=1*new Date();a=s.createElement(o),
m=s.getElementsByTagName(o)[0];a.async=1;a.src=g;m.parentNode.insertBefore(a,m)
})(window,document,'script','//www.google-analytics.com/analytics.js','ga');
ga('create', 'UA-45892555-1', 'robertfrankmedia.blogspot.com');
ga('send', 'pageview');