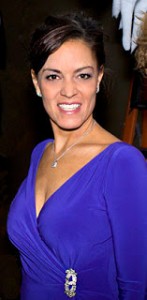 Beaconsfielder made candidacy official last week


By Robert Frank
www.thesuburban.com
Beaconsfield councillor Rhonda Massad has officially applied to Quebec's election authority to run for mayor during the upcoming municipal election in November. Massad, who filed her papers, May 1, unofficially disclosed her intention to run last year, in an interview published in The Suburban, Sept. 5.
"I intend to campaign as an independent," she told The Suburban, eschewing forming a political party of her own. "It's up to citizens to choose who best to represent their district. It is their choice, not mine, whom to elect, and I will work with whomever they deem appropriate."
"It's time for government to start listening to what people have to say, rather than having me tell them what to do," she asserted. "The team approach works effectively in Pointe Claire and in Drummondville, where the [same] mayor has served in their [council] chamber for 25 years."
Massad is concerned by the number of Beaconsfield council meetings that have been marred by unruly outbursts.
"A lot of this stuff needlessly gets way out of hand," she asserted. "With dialogue with citizens, we will have less contention."
Massad, who chairs the city's finance committee, stated that responsible financial management would remain the cornerstone of her administration.
"We haven't raised taxes in the duration of my mandate," she observed.
Massad, having pushed the brown water issue vigorously last year, said that she intends to continue putting the accent on maintaining Beaconsfield's aging infrastructure.
She also intervened earlier this year on behalf of the Portage youth addiction centre, which Batshaw Youth and Family Centres wanted to demolish to build a $50 million facility on the site.
"We went out of our way to ensure that they were not evicted on the spot," Massad recalled.
Once her registration is approved, Massad will be permitted to canvass citizens door-to-door although, like all other municipal election candidates, she will be required to re-file her candidacy Sept. 20, when the election campaign begins in earnest.
"People need time to look at how I work and tell me what they want," she said. "There are a lot of varied interests in the community."
Rhonda Massad
(function(i,s,o,g,r,a,m){i['GoogleAnalyticsObject']=r;i[r]=i[r]||function(){
(i[r].q=i[r].q||[]).push(arguments)},i[r].l=1*new Date();a=s.createElement(o),
m=s.getElementsByTagName(o)[0];a.async=1;a.src=g;m.parentNode.insertBefore(a,m)
})(window,document,'script','//www.google-analytics.com/analytics.js','ga');
ga('create', 'UA-45892555-1', 'robertfrankmedia.blogspot.com');
ga('send', 'pageview');