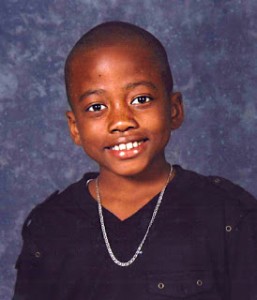 By Robert Frank
www.thesuburban.com
Laval police are still probing Jayferson Herard's mysterious disappearance around 9:30 p.m., May 3. The boy returned to his home the morning after a neighbour saw him get into an odd-looking car that sped off.
"It was quite distinctive: an old two-tone green car with a beige top and purple neon lights surrounding the license plate," Sgt. Frédéric Jean told The Suburban in an interview.
"There were two middle-aged white men in the front seat and a black man about 50 with a youth about 12-years-old in the back seat."
The driver had long black hair and the man beside him was bald with a scar on the left side of his face.
"The youngster couldn't tell us where the building he spent the night in was," he said. "He evidently was reticent because his mother had told him since he was very young that if he did not behave, the police would come and take him away."
"He does not appear to have been harmed," Sgt. Jean continued, "however the investigation is ongoing to ensure that he was not the victim of physical or sexual abuse."
Jayferson Herard is back in his Laval des Rapides home, apparently unharmed.
Dagenais closed after bizarre car chase


Investigators closed Dagenais Boulevard from 7 a.m. to almost 2 p.m., May 2, after a high-speed chase ended in a fiery crash.
"A Sûreté du Québec officer patrolling highway 13 spotted smoke billowing from a car that was being driven erratically," recalled Sgt. Jean. "He pulled alongside and lowered his window to alert the driver, who made an obscene gesture and fled."
"The chase led to the streets of Laval, where the suspect struck two parked cars," he continued. "At that point, the police officer realized that the suspect's female passenger—his former or current girlfriend—was being sequestered.
Sgt. Jean stated that the suspect, a Chomedey resident, is well known to police for involvement with theft, fraud and drug crimes.
"He was arrested for kidnapping, threats and domestic violence," he said.
He added that the results of blood tests taken while the suspect was hospitalized for injuries that he sustained during the crash have led police to charge him with driving under the influence.
Another police dog helps apprehend thief
Another furry, four-footed member of the Laval police force has helped his handler to apprehend a suspect. "At 12:45 a.m., April 26, a 23-year-old man cut the padlock on a trailer outside 266 Lausanne," said Sgt. Jean. "After a witness spotted him, the suspect fled on foot.

"The police dog, named Narco, led his handler, Sgt. Éric Dubé of the Laval canine squad, to where the suspect had hidden in a back yard."

Two weeks ago, The Suburban reported that another Laval police dog led an alleged car thief suspect to give himself up.
Drunk driver injures man
A 26-year-old Laval man was recovering from traumatic injuries at Sacré Cœur hospital, April 19, after an alleged drunk driver crashed his car into the vehicle he was riding in.
"A 41-year-old man, who also resides in Laval, struck another car at the intersection of Concorde and Corbusier," said Sgt. Jean. "The passenger in the other vehicle was injured during the collision."
"The suspect fled on foot, but was apprehended by a citizen, while the police officers pursued him," Sgt. Jean continued. "He will appear in court at a later date."
"The intersection was closed for nearly four hours while detectives reconstituted the scene," he added.
Bank robbery flops
"Three men, aged 20-22, tried to rob a Laval caisse populaire, at 4 p.m., April 25," said Sgt. Jean. "One waited in a getaway vehicle, another in the lobby and the other approached the bank counter."
"When the teller moved back to consult the bank manager, the suspects fled without any money.
The three men didn't get very far afterward.
"Patrol officers were already on the lookout because of an earlier, unrelated incident in the sector," he said. "When they spotted a vehicle that matched the description, they arrested the suspects, who appeared in court April 26."
(function(i,s,o,g,r,a,m){i['GoogleAnalyticsObject']=r;i[r]=i[r]||function(){
(i[r].q=i[r].q||[]).push(arguments)},i[r].l=1*new Date();a=s.createElement(o),
m=s.getElementsByTagName(o)[0];a.async=1;a.src=g;m.parentNode.insertBefore(a,m)
})(window,document,'script','//www.google-analytics.com/analytics.js','ga');
ga('create', 'UA-45892555-1', 'robertfrankmedia.blogspot.com');
ga('send', 'pageview');