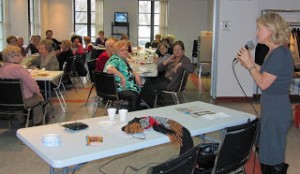 Services now available in English


By Robert Frank
www.thesuburban.com
Laval's caregivers' association (www.aldpa.org) began last week to reach out to the city's burgeoning English and cultural community population.
The organization has for many years provided much-needed support, education and advocacy in French to residents who have to care for a loved one whose independence has been limited.
"We help all caregivers, whether it's someone who has to help a son who has psychological problems or the father who has Parkinson's disease," home respite services coordinator Monic Masson told The Suburban, underscoring that caregivers help more than just the elderly.
"Caregivers improve their loved-ones' lives and social well-being," she continued. "It's a very fulfilling responsibility, but it's extremely demanding. We teach caregivers how to cope by taking care of themselves, so they don't jeopardize their health, their family, their social life and their finances and put their own live at risk."
To spread the word, Masson spent last week doing outreach to a Laval women's group, as well as Greek and Italian organizations. She said that she plans more visits this fall, includ- ing to Laval's Armenian community.
Although the majority of caregivers are women, one in five nurturers are men.
Masson credited Laval's regional health authority for recognizing the needs of the city's hitherto underserved English community and subsidizing the new services.
"We're a community centre and it's important that we provide this much-needed support to all caregivers in Laval," she emphasized.
"We want to ensure that they're aware of the resources like home respite services that we offer. We also help people with documentation and employ a therapist who can help people get through difficult times."
"It's difficult to ask for help," Masson acknowledged. "Caregivers feel guilty if they take time for themselves. They also need to know how to cope if medicine causes that person they're helping to them become aggressive."
The Suburban previously reported on a similar initiative by the Laval Alzheimer's Society, which offered its first English course for family members at the beginning of this month.
Monic Masson met members of Laval's Italian golden age club, April 18, to highlight activities and services available to English-speaking and allophone caregivers.
(function(i,s,o,g,r,a,m){i['GoogleAnalyticsObject']=r;i[r]=i[r]||function(){
(i[r].q=i[r].q||[]).push(arguments)},i[r].l=1*new Date();a=s.createElement(o),
m=s.getElementsByTagName(o)[0];a.async=1;a.src=g;m.parentNode.insertBefore(a,m)
})(window,document,'script','//www.google-analytics.com/analytics.js','ga');
ga('create', 'UA-45892555-1', 'robertfrankmedia.blogspot.com');
ga('send', 'pageview');