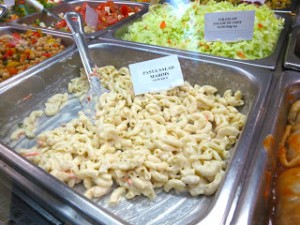 Facebook site launched & Sunday Buy-in held to support Harry Schick
By Kevin Woodhouse
www.thesuburban.com
Last week, Harry Schick, the owner of the Pointe Claire Swiss Vienna Pastry and Delicatessen, was visited once again by an agent of the Quebec Office de la Langue Francaise (OQLF) who asked Schick if he could take photos of the store. Schick refused and politely asked the agent to leave the store. The inspector complied but warned the delicatessen owner that he would be back.
Schick made news recently after a subsequent visit from the OQLF and Schick commemorated the visit by adding a new item to the menu: Marois Pasta Salad that has become a popular item. "It is pasta salad with a little more mayonnaise to help it go down easier," Schick told The Suburban.

Apparently, the agent wanted to once again take photos of Schick's welcome signs that are in more than 35 languages besides English and French. "When I told him he could not take photos of my business, the inspector was taken aback. Because he was only speaking in French to me, I asked him to speak in English or leave. He told me that 'we don't speak English in Quebec.'"
During the past 36 years, Schick has been visited so many times by French language inspectors that "I have lost count but this is really starting to become a pain in my backside," Schick said. "I will likely be hiring lawyers to go after the OQLF through the Freedom of Information Act because I want to know whether I am receiving legitimate complaints or if am I being targeted."
Schick has gone to court before for alleged infractions by the OQLF but those cases were all thrown out of court. "I have never received a single complaint from my customers about being served in either French or English," said Schick.
The deli owner has received a lot of local support, including a Facebook page that was launched last Thursday. Within 14 hours, it acquired 753 members. By press time, that number had risen to more than 1,400. An lunch time this past Sunday, more than 200 people came out to the deli for a BUY-IN, to have a bite and show their allegiance with Schick after the anglophone rights advocates The Unity Group pitched the idea to its supporters.
Another sign that adorns Schick's business is the four-word missive written on a window in the storefront stating "O.L.F. We're here to stay!"
The Suburban editor Beryl Wajsman who recently presented a brief at the Bill 14 hearings demonstrating civil rights violations of the bill, showed up to offer his support and said more people should follow in Schick's footsteps if they wish to see change.
"It's the power of one. One person starts. Two people have the courage, then it's four, then it's eight. Then you can't stop it. Just say no!"
To support Harry Schick log on to: www.facebook.com/stickwithschick
(function(i,s,o,g,r,a,m){i['GoogleAnalyticsObject']=r;i[r]=i[r]||function(){
(i[r].q=i[r].q||[]).push(arguments)},i[r].l=1*new Date();a=s.createElement(o),
m=s.getElementsByTagName(o)[0];a.async=1;a.src=g;m.parentNode.insertBefore(a,m)
})(window,document,'script','//www.google-analytics.com/analytics.js','ga');
ga('create', 'UA-45892555-1', 'robertfrankmedia.blogspot.com');
ga('send', 'pageview');