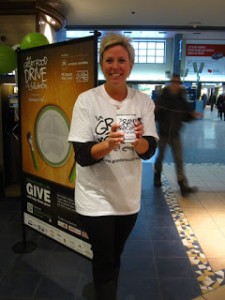 By Robin Della Corte
www.thesuburban.com
This year, Moisson Laval hopes to raise $100,000 in donations to help 21,000 Canadian children aged five and younger, who suffer from hunger and poverty, according to campaign organizer Caroline Malette.
Called The Great Food Drive for Children, the campaign provides essential food aid that's specially suited to the needs of babies and toddlers.
The campaign will run until April 7 and will be supported by TV host Ève-Marie Lortie, the campaign's official patron.
Moisson Laval and its sister charities, Moisson Montreal and Moisson South Shore, will use the money they raise to buy food for toddlers and distribute it. The foodstuffs and funds that they collect will be channeled through community organizations they have accredited which support programs that help families with children aged five and under, as well as expectant mothers.
Organizers are asking for donations of non-perishable food such as mashed potatoes, baby cereal, formula, healthy snacks, diapers and hygiene products.
"We attach great importance to the well-being of youth," Sophie Fortin, senior vice-president, Standard Life, which is sponsoring the campaign, said in a statement. "We want to help give children access to safe and nutritious food, help them grow and get off to a good start."
Companies and institutions are also welcome to organize their own workplace collections of funds and food.
Supporters can donate by visiting www.granderecolte.com or drop-off locations including:
Walmart (Chomedey and Laval East)
Place Versailles
Centre de renovation Patrick Morin
IGA Extra Sévigny
Métro Dépatie
University of Montreal (Laval Campus)
TVA television host Ève-Marie Lortie appeared at Centre de rénovation Patrick Morin, March 28, to help Moisson Laval collect food and money to feed hungry children.
(function(i,s,o,g,r,a,m){i['GoogleAnalyticsObject']=r;i[r]=i[r]||function(){
(i[r].q=i[r].q||[]).push(arguments)},i[r].l=1*new Date();a=s.createElement(o),
m=s.getElementsByTagName(o)[0];a.async=1;a.src=g;m.parentNode.insertBefore(a,m)
})(window,document,'script','//www.google-analytics.com/analytics.js','ga');
ga('create', 'UA-45892555-1', 'robertfrankmedia.blogspot.com');
ga('send', 'pageview');