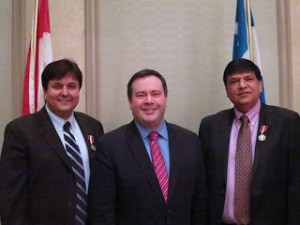 By Robert Frank
www.thesuburban.com
Two West Islanders received the Queen Elizabeth II Diamond Jubilee medal, Feb. 2.
Jason Kenney officially presented the medal during a morning ceremony at the Pointe Claire Holiday Inn.
"Only one out of every 5,000 Canadians received the distinction of these medals this year," stated the federal immigration minister, as he honoured Naseer Mehdi Khan and Vikram Bhatti for their contribution to Canada's South Asian community.
Khan is well-known for organizing the popular Eid-on-the-Hill event on Parliament Hill in Ottawa. Bhatti is president of Dollard des Ormeaux' Hindu Mandir.
Canada minted the Diamond Jubilee Medal to mark the 60th year of Queen Elizabeth II's reign, as a way to recognize people who have made a significant contribution to Canadians.
"They both made Canada their home by choice, not by chance," Kenney affirmed. "They didn't just seize the opportunity that Canada presents to newcomers from around the world, but they also gave back."
"These newcomers set a magnificent example of giving back to their particular communities."
The minister noted that this was accomplished despite each recipient hailing "from their own particular faith background they yet have embraced what's best about Canada's tradition of pluralism: working with all different communities, bringing us all together as Canadians."
"That reflects the idea of the Crown, where you can hail from different backgrounds and have different beliefs and yet have a common allegiance and unity in our diversity, under the Crown," Kenney concluded.
Canada's Immigration Minister Jason Kenney (centre) honoured Naseer Khan (left) and Vikram Bhatti (right) during a ceremony in Pointe Claire, Feb. 2.
(function(i,s,o,g,r,a,m){i['GoogleAnalyticsObject']=r;i[r]=i[r]||function(){
(i[r].q=i[r].q||[]).push(arguments)},i[r].l=1*new Date();a=s.createElement(o),
m=s.getElementsByTagName(o)[0];a.async=1;a.src=g;m.parentNode.insertBefore(a,m)
})(window,document,'script','//www.google-analytics.com/analytics.js','ga');
ga('create', 'UA-45892555-1', 'robertfrankmedia.blogspot.com');
ga('send', 'pageview');