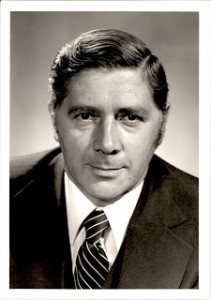 By Robert Frank
www.thesuburban.com
The man behind the prophetic slogan The Future is in Laval passed away, Jan. 23, after a long illness.
Dr. Lucien Paiement jumped into municipal politics in 1965, right after the Quebec government knocked heads together on Île Jésus, using a cabinet decree to force the merger of the island's 14 municipalities into a single city.
Born in 1932 in St. Hermas, a village that is now part of Mirabel, Dr. Paiement moved to St. Elzéar—now part of Laval—to open his family medicine practice.
In 1966, a year after being elected as a member of Laval's first city council, he joined the executive committee under mayor Jacques Tétrault, and later formed his own political party to run successfully for mayor in 1973.
Though reelected in 1977, he was defeated during the 1981 municipal elections by his successor as mayor, Claude Ulysse Lefebvre, who headed the Parti du ralliement officiel (PRO) party.
Dr. Paiement's final days were spent at the palliative care unit of Laval's Cité de la santé superhospital, an institution that he helped to found in 1978, and which he served as chairman of the board.
His legacy includes turning Laval from a boudoir suburb that depended heavily on Montreal into an economic powerhouse in its own right. He also will be remembered getting residents of the island's disparate collection of former municipalities to start thinking of themselves as Lavalois.
In his spare time, Dr. Paiement was an avid racehorse breeder and served as head of the Quebec's breeders' association. In 2006, he was part of a group that tried to acquire Quebec's four racetracks. He owned a stable in St. André d'Argenteuil where he raised a band of strong broodmares. Most of their offspring can be identified as his, as their names include the word 'Semalu'.
Funeral services were held yesterday morning at St. Elzéar church.
Dr. Lucien Paiement, 80, died peacefully at the Cité de la santé superhospital that he had helped to found.
(function(i,s,o,g,r,a,m){i['GoogleAnalyticsObject']=r;i[r]=i[r]||function(){
(i[r].q=i[r].q||[]).push(arguments)},i[r].l=1*new Date();a=s.createElement(o),
m=s.getElementsByTagName(o)[0];a.async=1;a.src=g;m.parentNode.insertBefore(a,m)
})(window,document,'script','//www.google-analytics.com/analytics.js','ga');
ga('create', 'UA-45892555-1', 'robertfrankmedia.blogspot.com');
ga('send', 'pageview');