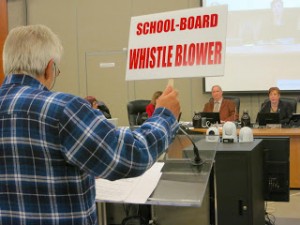 By Robert Frank
www.thesuburban.com
Quebec's workplace safety commission has concluded that air quality at a Beaconsfield school is safe for employees there.
However, in a Dec. 17 report, the Commission de la santé et de la sécurité du travail directed Lester B. Pearson School Board to develop an action plan to deal with moisture and mould at its Gordon Robertson Beauty Academy, adjacent to Beaconsfield High School.

An earlier report, issued by Quebec health authorities at the end of October, had recommended immediate intervention, and called for "a firm specialized in dealing with mould remediation to take samples and decontaminate."

In response to questions during a commissioners meeting that evening, school board chair Suanne Stein Day replied "all recommendations in the report were for preventative measures. There was no mould or excessive moisture found in the building."

LBPSB assistant director-general Carol Heffernan added that work at the school is to be completed in the spring.

"Can I have a copy of the plan?" asked teacher Lucie Vacca, who first called the school's air quality to public attention.
"Those reports have to be reviewed and we will make them available as required," Stein-Day replied.
Santé Montreal also conducted a health survey of the school's employees, which has yet to been made public.

During the meeting, Heffernan observed that Quebec has announced plans to trim $1.5 billion in government infrastructure expenditure, and indicated that she is concerned about how this will affect school boards in the province.
"I hope that they will cancel the Highway 440 project, so we can keep using the schoolyard adjacent to Margaret Manson school," Stein Day added.
Vacca, who was suspended from her teaching job after she made her concerns about school air quality public, told the commissioners that she is concerned for the employees and students at Gordon Robertson.

Following the meeting, she told The Suburban that she intends to bring the matter to the attention of premier Pauline Marois.
In his annual report at the end of November, Quebec auditor general Michel Samson expressed concern about
the risks posed by mould and poor air quality
in Quebec schools and criticized complacency by the province's education ministry.
LBPSB chair Suanne Stein Day (right) told education activist Chris Eustace, Dec. 17, that the school board's audit committee is currently developing a whistleblower policy.
(function(i,s,o,g,r,a,m){i['GoogleAnalyticsObject']=r;i[r]=i[r]||function(){
(i[r].q=i[r].q||[]).push(arguments)},i[r].l=1*new Date();a=s.createElement(o),
m=s.getElementsByTagName(o)[0];a.async=1;a.src=g;m.parentNode.insertBefore(a,m)
})(window,document,'script','//www.google-analytics.com/analytics.js','ga');
ga('create', 'UA-45892555-1', 'robertfrankmedia.blogspot.com');
ga('send', 'pageview');