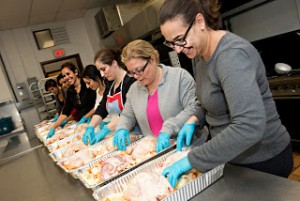 By Robert Frank
www.thesuburban.com
Out of sight amidst ample prosperity, there are pockets of want and despair, which several West Island organizations try to address.
This year a dozen volunteers again used the kitchen at Beth Tikvah synagogue in Dollard des Ormeaux to prepare meals for underprivileged members of the West Island Jewish community.
Dubbed Shabbat in a Box, they prepared Sabbath meals for ten West Island families. The repasts included such traditional staples as chicken soup, roast chicken, challah [egg] bread, fruit and cookies—enough for a filling Friday supper and a satisfying Saturday lunch.
The volunteers also delivered the meals, Dec. 5, together with toys to serve as Chanukah gifts for the recipients' children.
"There are 14,000 Jews living in the West Island," Federation CJA said in a statement. "Of those, 12 per cent live below the poverty line."
Federation CJA West Island director Maia Cooper told The Suburban in an interview this is the second year the group, known as Tikun Olam Volunteers (TOV) has come together to help fight hunger in advance of the holiday season.
"Tikun Olam means 'Repair the World,'" she explained, "and the group's acronym TOV is the Hebrew word for good."
Cooper added that the West Island is home to a substantial and growing Jewish community, Montreal's second-largest after the Hasidic Orthodox community.
(Right to left) Valerie Amara, Dania Besnos, Ruth Levitsky, Joelle Medina, Heidi Wise-Galler, Denise Goldman and Hindy Olson put the finishing touches on ten traditional Sabbath repasts for low-income Jewish families who live on the West Island.
(function(i,s,o,g,r,a,m){i['GoogleAnalyticsObject']=r;i[r]=i[r]||function(){
(i[r].q=i[r].q||[]).push(arguments)},i[r].l=1*new Date();a=s.createElement(o),
m=s.getElementsByTagName(o)[0];a.async=1;a.src=g;m.parentNode.insertBefore(a,m)
})(window,document,'script','//www.google-analytics.com/analytics.js','ga');
ga('create', 'UA-45892555-1', 'robertfrankmedia.blogspot.com');
ga('send', 'pageview');