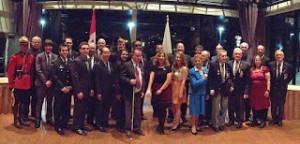 By Robert Frank
www.thesuburban.com
Twenty-six Pierrefonds-Dollard riding residents received the Queen Elizabeth II Diamond Jubilee medal during a cer- emony in Pierrefonds-Roxboro.
Member of Parliament Lysane Blanchette-Lamothe officially presented the medal during a colourful ceremony in the Pierrefonds East Community Centre.
Members of the Royal Canadian Mounted Police, St. John Ambulance and the Roxboro branch of the Royal Canadian Legion assisted in presenting the medals.
The recipents were Paul Aitken, Sergio Arione, Major Frederick Arnold, Frank Chan, John Clendenning, Raymond Cluett, Patrick de Sève, Alphonse Evers, Grant Furholter, Roger Gingras, Jeffrey Gross, Douglas Hurley, Sabine Kade, Paramjit Singh Kainth, Desneige Laperrière, Capt. Karl Mansour, Const. Jacques Monast, Carl Mousseau, Alain Nonat, Capt. Maurice Noreau, Haliard Pearson, Maj. Christopher Phare, Jack Sebaski, Samuel Shulman, Sidney (Ted) Wansborough and Katherine Howard.
Canada minted the Diamond Jubilee Medal to mark the 60th year of Queen Elizabeth II's reign, as a way to recognize people who have made a significant contribution to Canadians.
Veterans, teachers and Scout leaders were among the 26 Pierrefonds-Dollard residents who earned official recognition for their contribution to their peers, their community and to Canada.
(function(i,s,o,g,r,a,m){i['GoogleAnalyticsObject']=r;i[r]=i[r]||function(){
(i[r].q=i[r].q||[]).push(arguments)},i[r].l=1*new Date();a=s.createElement(o),
m=s.getElementsByTagName(o)[0];a.async=1;a.src=g;m.parentNode.insertBefore(a,m)
})(window,document,'script','//www.google-analytics.com/analytics.js','ga');
ga('create', 'UA-45892555-1', 'robertfrankmedia.blogspot.com');
ga('send', 'pageview');