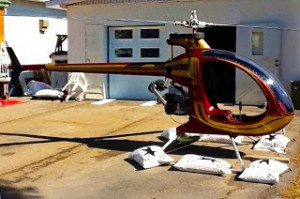 By Robert Frank
www.thesuburban.com
Bruno Piché is a lucky man. The 48-year-old Laval resident was relatively unscathed after the home- built helicopter that he was piloting plunged into Lac Britannique, near St. Sixte, Quebec, Nov. 18. No one else was aboard the aircraft at the time of the crash.
"From what we understand," Sûreté du Québec Sgt. Marc Tessier told The Suburban in an interview, "when he arrived at the lake at about 1 p.m., Sunday, he was blinded by the sun and misjudged the distance of the helicopter from the lake."
"When the helicopter hit the water, it caught on fire," Sgt. Tessier continued.
"The pilot extricated himself from the helicopter. His brother, [Richard Piché] who had been awaiting him on the shore, saw everything transpire and paddled a kayak to the crash site, where he rescued his brother from the lake."
"The pilot was taken by ambulance to hospital in Buckingham, Quebec, and released after it was determined that he had suffered only minor injuries."
"Sûreté du Québec notified the Transportation Safety Board of Canada, which will follow up with the pilot and determine whether it will pursue a further investigation," said Sgt. Tessier.
He added that the blaze aboard the helicopter was extinguished when it sank.
"The Quebec environment ministry was notified and will determine whether the helicopter needs to be recovered from the bottom of the lake."
Bruno Piché's fibreglass homebuilt helicopter now lies at the bottom of Lac Brittannique.
(function(i,s,o,g,r,a,m){i['GoogleAnalyticsObject']=r;i[r]=i[r]||function(){
(i[r].q=i[r].q||[]).push(arguments)},i[r].l=1*new Date();a=s.createElement(o),
m=s.getElementsByTagName(o)[0];a.async=1;a.src=g;m.parentNode.insertBefore(a,m)
})(window,document,'script','//www.google-analytics.com/analytics.js','ga');
ga('create', 'UA-45892555-1', 'robertfrankmedia.blogspot.com');
ga('send', 'pageview');