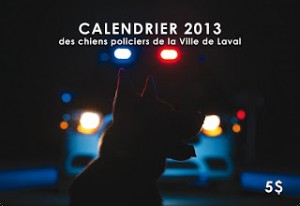 By Robert Frank
www.thesuburban.com
Laval's furry finest are again this year lending their alert and adorable faces to a 2013 calendar that will raise money to help head trauma victims.
The calendar is filled with attractive photos of the canine members Laval police's cynophile squad.
The dogs, who work closely with police officers on patrols and emergency calls, have for the past four years provided their images to support the Martin Matte Foundation, which builds specialized homes and supports activity centres for head-trauma victims.
Previous canine squad calendars have already generated $110,000 toward the cause, which originated after police officer Éric Lavoie died from head injuries in the wake of a car crash.
The calendars, which cost $5, went on sale, Nov. 1, at IGA grocery stores in Laval. They can also be ordered through the internet at www.fondationmartinmatte.com or by sending a cheque payable to Fondation Martin-Matte to 3095 Autoroute Laval West H7P 4W5.
Laval police have vowed that every cent collected will be remitted to the charity.
Move over beefcake and cheesecake: Laval dog squad's cute calendars have previously raised $110,000 to help head trauma victims.
(function(i,s,o,g,r,a,m){i['GoogleAnalyticsObject']=r;i[r]=i[r]||function(){
(i[r].q=i[r].q||[]).push(arguments)},i[r].l=1*new Date();a=s.createElement(o),
m=s.getElementsByTagName(o)[0];a.async=1;a.src=g;m.parentNode.insertBefore(a,m)
})(window,document,'script','//www.google-analytics.com/analytics.js','ga');
ga('create', 'UA-45892555-1', 'robertfrankmedia.blogspot.com');
ga('send', 'pageview');