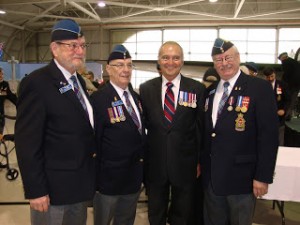 By Robert Frank
www.thesuburban.com
Three West Island residents received the Queen Elizabeth II Diamond Jubilee medal during a ceremony in Mount Hope, Ontario, Oct. 14.
With a venerable World War II Royal Canadian Air Force DC-3 Dakota aircraft as the backdrop during a ceremony at the Canadian Warplane Heritage Museum, Sen. Joseph Day officially presented the medal to Pierrefonds resident and Quebec RCAF Association president, Guy Vallières; Sainte Anne de Bellevue resident and 394 (West Island) RCAF Association president André Labelle; and Pointe Claire resident and national RCAF Association past-president Brian Darling.
The ceremony coincided with the RCAF Association's 63rd annual general meeting in Hamilton, Ontario.
The Royal Canadian Air Force Association of Canada (www.airforce.ca), a national aerospace and community service organization, was established in 1948 to commemorate the achievements of the men and women who have served as members of Canada's air force since its inception.
It advocates for a professional and well-equipped air force and supports the Royal Canadian Air Cadet program. Membership in the RCAF Association is open to serving and retired personnel.
Canada minted the Diamond Jubilee Medal to mark the 60th year of Queen Elizabeth II's reign, as a way to recognize people who have made a significant contribution to Canadians.
(Left to right) MOUNT HOPE, Ontario—Guy Valières
(Pierrefonds), André Labelle (Sainte Anne de Bellevue), Sen. Joseph Day and
Brian Darling (Pointe Claire) following a medals presentation ceremony at the
Canadian Warplane Heritage Museum.
PHOTO COURTESY
KAREN MACBEAN
(function(i,s,o,g,r,a,m){i['GoogleAnalyticsObject']=r;i[r]=i[r]||function(){
(i[r].q=i[r].q||[]).push(arguments)},i[r].l=1*new Date();a=s.createElement(o),
m=s.getElementsByTagName(o)[0];a.async=1;a.src=g;m.parentNode.insertBefore(a,m)
})(window,document,'script','//www.google-analytics.com/analytics.js','ga');
ga('create', 'UA-45892555-1', 'robertfrankmedia.blogspot.com');
ga('send', 'pageview');