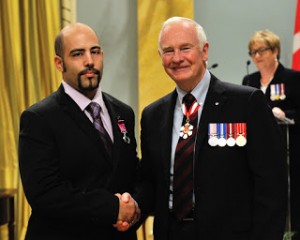 By Robert Frank
www.thesuburban.com
Laval resident Anthony del
Balso received the Medal of
Bravery during a ceremony
in Ottawa, Oct. 12.
Governor-General David
Johnston officially presented
the insignia during a ceremony at Rideau Hall.
Del Balso earned the distinction for his role in the rescue of a woman who was
being attacked in a Montreal
food court, Oct. 10, 2010.
He and two other men saw
a man sneak up behind the
woman and repeatedly strike
her on the head with a knife.
The victim managed to get
away, knocking chairs over
behind her to try to trip the
attacker, who continued to
chase her.
Together with another man, Del Balso blocked the
path leading to the victim.
All three rescuers then
restrained the attacker until
security officials arrived.
In addition to receiving
the insignia, Del Balso, the
Medal of Bravery honour
entitles him to use the postnominal letters MB after his
name for the rest of his life,
in recognition of his heroism.