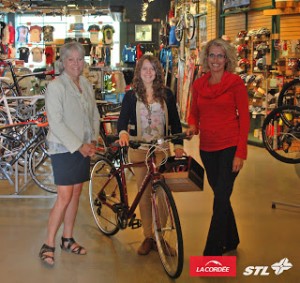 By Robert Frank
www.thesuburban.com
The Société de transport de Laval (STL) has
awarded a prize to Laval resident Rosalie Naud,
for helping to promote mass transit in the
island city this summer.
Her name was drawn from among the seven
students who STL employed this summer to
encourage citizens to take advantage of the
city's high-tech transit system.
"We hired university and CEGEP students
who travelled throughout Laval to acquaint
people with our services," STL spokeswoman
Marie-Céline Bourgault told The Suburban in
an interview.
"They visited CEGEPs, Centre Laval, Centre
de la nature during family day, and Place Laval
in a business context," she said.
"The told them about our services and
explained how to use the Internet or different
real-time applications for iPhones and Android
phones to plan their itinerary. They started in
June and worked throughout the summer."
The STL apps, known as STL
Synchro, are available at: http://www.stl.laval.qc.ca/lang/en/mobile-stl/
"STL was the first public transit system in
Quebec to implement this technology in a big
way," she enthused. "We also have electronic
displays at certain bus stops that tell you in
real-time when the next two busses will
arrive."
"We also offer a service called Chronobus,"
Bourgault added. "Each stop has a special telephone number that you can call to find out
how much time you will have to wait before
the next bus arrives."
Laval resident Rosalie Naud received a bicycle and helmet from La Cordée after winning the Société de transport de Laval's sustainable mobility contest.