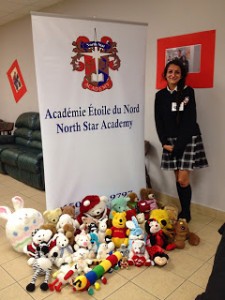 By Robert Frank
www.thesuburban.com
"Orientation night is an occasion to meet,
greet and share," said North Star Academy Laval (NSAL) admissions secretary Paola el
Khouri.
This year, the private high school decided to
extend its sharing outside of the NSAL community, consistent with the traditional values
that principal Josée Pépin says the academy
espouses.
It invited students to bring stuffed animal
toys to contribute to brightening the lives of impoverished children in Haiti.
Besides being the poorest country in the western hemisphere, the Caribbean nation sits
astride a major geological fault line and was
stricken by a devastating earthquake in 2010
that killed some 316,000 people, injured another 300,000, and left a million people homeless.
"Our students provided about sixty teddy
bears, which will be distributed in Haiti
through a Montreal charity," el Khouri
explained.
"The NSAL family is now looking forward to
its open house, Saturday, Sept. 29, from 2-5
p.m."
North Star Academy student Savleen Kaur Sur shows off some of the five dozen teddy bears
that her high school collected to send to children in desperately impoverished Haiti,
which has not yet fully recovered from a catastrophic 2010 earthquake.