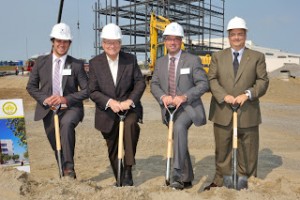 Laval beats out Montreal, Toronto, Quebec City, Rouyn-Noranda
By Robert Frank
www.thesuburban.com
Swiss mining giant Xstrata has decided to locate up to 200 staff who run its nickel mining operations in new facilities in Laval.
"We conducted a two-year study to find the best place," spokeswoman Céliane Dorval told The Suburban in an interview. She said that Laval was selected after competing with many other cities, including Montreal, Toronto, Quebec City and Rouyn-Noranda.
"Laval was the strategic choice because it is a hub as well as a tremendous base of skilled manpower, and for its proximity to major airports, since our staff often has to travel."
She said that Xstrata—the fourth-largest nickel producer in the world—will rent three floors in the new building, currently under construction by Montoni on Maurice Gauvin Street, adjacent to Highway 15.
"It will house key personnel such as geologists, engineers, financial analysts, accountants and strategic planners," Dorval explained. "The new premises will provide us with a single facility where we can unite our staff, which is currently dispersed in several locations."
She added that—although only about 100 people will work there initially—the burgeoning company will be in hiring mode after its Laval facility opens in March 2013.
"Despite falling mineral prices, Xstrata is extremely well-positioned in the nickel market," Dorval observed.
"Last year, we announced that we would invest $530 million in Xstrata Nickel Raglan Mine, which will enable us to increase our production of nickel—which currently stands at 1.3 million tonnes of ore per year—by more than 50 per cent by 2016."
"We need the extra staff to enable us to achieve these objectives," she concluded. "Laval will be the optimal place to recruit them, because of the large number of qualified people available there."
Montoni has started building a new office tower on Maurice Gauvin to house Xstrata's burgeoning nickel mining business. (Left to right) Jean-François Verret, strategy and communications director, Xstrata; Laval mayor Gilles Vaillancourt; Michael J. Welch, vice-president, Xstrata
Nickel Raglan Mine; and Laval Technopole vice-president Gilbert Leblanc.