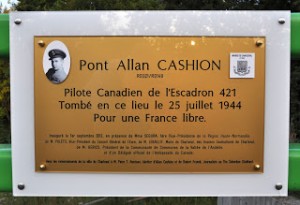 Pour avoir rendu possible un hommage a un pilote de l'Aviation Royale du Canada de la Seconde guerre mondiale
CHARLEVAL, FRANCE—Des remerciements au reporter Robert Frank et au journal The Suburban sont gravés au bas de la plaque (Cf. nos pages aujourd'hui sur le sujet.)
Bien que dans la photo les mots sont trop petits pour être lus, ils louent le rôle central que le journal a jouer en permettant à cette ville normande d'exprimer sa gratitude pour un résident de Notre-Dame-de-Grâce qui a donné sa vie pour les aider à les libérer de l'occupation nazie.
Voici comment cela est arrivé :
Selon la loi française, pour que Charleval puisse nommer le pont du nom du Lieutenant d'aviation Allan Cashion, Guy Pesier, le président des anciens combattants de Charleval et la chargée de communication et du tourisme de la commune de Charleval, Sanda Men Makoth devaient obtenir la permission d'un de ses héritiers.
Malheureusement, les parents du lieutenant de l'aviation Cashion avaient pas d'autres enfants, et leurs efforts pour trouver d'autres parents n'ont pas portés ses fruits.
L'espoir est venu après avoir approché Matthew McHugh, qui travaillait cet été au Centre Juno Beach—un musée qui fut inauguré en 2003, pour commémorer l'endroit où les Canadiens ont débarqué en Normandie le Jour‑J.
M. McHugh, à son tour, a contacté un vétéran de l'ARC à Montréal, M. Don Baird de l'Association historique de l'aviation canadienne qui, à son tour, sollicita The Suburban dont le rédacteur et Beryl Wajsman.
M. Wajsman a affecté M. Frank, qui a utilisé son expérience de journaliste d'investigation pour creuser des informations factuelles sur le lieutenant de l'aviation Cashion. Un premier reportage est paru le 23 mai.
Lorsque Mme Gloria Parkinson, une résidente de Notre-Dame de Grâce qui connaissait les parents du lieutenant de l'aviation Cashion a lu son article, elle lui a téléphoné. Elle a fourni des renseignements au The Suburban sur un aïeul de sa mère, le magnat de boulangerie M. Dent Harrison.
M. Frank a rapidement repéré et appelé l'arrière petit-fils de feu Dent Harrison, M. Peter T. Harrison, qui a accepté de donner à la ville de Charleval en France la permission de nommer le pont du nom du pilote de l'ARC de la Seconde Guerre mondiale, mort à l'âge de 23 ans.
Une autre connaissance des Cashions s'est manifestée après que l'article ait paru : un ancien Montréalais vivant au Texas. Dans l'article du The Suburban éctrit par M. Frank est racontée l'histoire tragique des parents du lieutenant de l'aviation Cashion, mort sans enfant, car ayant perdu leur fils unique pendant la guerre.
L'histoire déchirante de leur sacrifice est également publiée dans les pages du The Suburban.


(function(i,s,o,g,r,a,m){i['GoogleAnalyticsObject']=r;i[r]=i[r]||function(){
(i[r].q=i[r].q||[]).push(arguments)},i[r].l=1*new Date();a=s.createElement(o),
m=s.getElementsByTagName(o)[0];a.async=1;a.src=g;m.parentNode.insertBefore(a,m)
})(window,document,'script','//www.google-analytics.com/analytics.js','ga');
ga('create', 'UA-45892555-1', 'robertfrankmedia.blogspot.com');
ga('send', 'pageview');