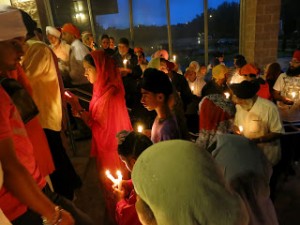 By Robert Frank
About 150 parishioners held a candlelight vigil at Gurdwara Sahib of Greater Montreal congregation, Aug. 10, to reflect upon a senseless shooting rampage, five days earlier, and honour its victims.
"I think we're all affected by the tragedy," Mukhbir Singh, the Dollard des Ormeaux temple's general secretary, told
The Suburban
in a telephone interview from the
Sikh temple in Oak Creek,Wisconsin,
where six parishioners were killed and four others injured, Aug. 5.
"When I learned what had happened, I was in the [Dollard des Ormeaux] temple, so you have the feeling that it can happen to anyone," he recalled. "You can relate with that whether you go to a church, a mosque or a synagogue. Everyone can relate to this event in one way or another."
Although Mr. Singh highlighted how the Dawson College and École polytechnique shootings show that Montreal is not immune to this sort of rampage, he affirmed that "in Canada, we celebrate different values such as multiculturalism, which is very helpful and inclusive of different cultures within our society. Consequently, race and hate crimes are much less prominent."
He said that while in Oak Creek, he attended a town hall meeting "where local parishioners asked 'How can I feel secure again?'"
"The Oak Creek chief of police explained that [the perpetrator] wasn't representative of Americans nor of Oak Creek. He said that he wanted Sikhs and all Americans to feel secure, unafraid of living their lives and feeling free."
Amar Singh Kaura, who operates a dépanneur in Beaconsfield, was also impressed with the American response.
"The U.S. government is going out of its way to ensure that people know what's happening," he told The Suburban in an interview.
Congregation president Gurdip Singh Sohal commented on the massacre at the conclusion of the Dollard temple's Friday evening worship service. Afterward, parishioners braved torrential rain to march, candles in hand, in a show of unity against hatred.
Although no provincial politicians, who are currently embroiled in an election campaign, accepted the invitation to attend the rally, St. Laurent federal parliamentarian
Stéphane Dion
told the congregation in a letter that he was "saddened and outraged by the appalling tragedy."
"Today," he wrote, "let us pause together, in remembrance of those who perished and for peace."
Candlelight vigil: More than 150 parishioners re-enter Dollard des Ormeaux' Sikh temple, after braving torrential rain to remember and honour the victims of an Aug. 5 shooting in Oak Creek, Wisconsin.
Jugaad Singh joined other members of the Dollard des Ormeaux Sikh temple, Aug. 10, in a candlelight vigil to remember the victims of the Oak Creek, Wisconsin, shooting rampage.