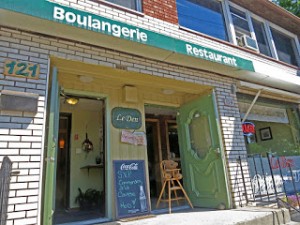 Café-bakery the focal point of Valois Village



By Robert Frank
www.thesuburban.com
Visiting New York Times correspondents, a former spy, politicians making election speeches, airport officials, well-known children's authors, throngs of teachers, mothers who just dropped off their kids at school or who just poured out of the women's centre slinging one-month-olds, youths from the Valois pool and city engineering staff—these are just some of the hundreds of people who visit Valois Village every day to meet at Le Den.
At first blush, the unpretentious but cozy Pointe Claire venue seems an unlikely draw. The décor is deceptively modest, the menu simple and patrons stand in line to order before being seated. Yet the crowd is always heavily populated with regulars who are on a first-name basis with the staff. French and English. Canadians and Americans. They come back, week after week, year after year. More often or not, they push tables together to accommodate groups of eight to 10 or more, frequently filling the café by mid-morning and making it hard to find a seat at a time of day when other West Island restaurants are nearly empty.
What's the secret? When owners Kenneth Su and Ming Lu took over in 2002, they had a vision of a restaurant where they would treat their customers like friends. "Ninety-five percent of our food is home made," Ken told The Suburban in an interview. "It's very time-consuming to prepare."
It's also exquisitely healthy. When Ming is not hard at work, cooking in the kitchen, it's not unusual to find her buried in a book, researching the light, wholesome meals that she prepares. Original home made soups as well as nutritious salads—including a delicious celery root offering—feature prominently among the fare.
Though most of the cuisine is steadfastly Canadian, Ming has retained a few Chinese dishes on the menu, including some of the best hot-and-sour soup in Montreal as well as won ton with peanut sauce and Hong Kong breakfast: a huge, hearty meal-of-a-soup which includes a whole egg, noodles and sausage that is guaranteed to warm you up on the coldest of winter days.
The restaurant doubles as a bakery, whose bread and scones also keep clients coming back, particularly for their unique flax and flax-raisin bread, baked daily without any preservatives.
"I used to supply four health-food stores with bread," explained Ken, who made his last delivery to Papillon at the end of June. "To keep up the quality, we can't produce much volume, so all the bread we bake, we now sell in-house."
A keen eye will notice the restaurant is embellished by Ming's imaginative original artwork and delightful handicrafts, some of which are for sale. During the holidays, patrons can also buy her fanciful gingerbread houses and—two years ago—she invented a mini-gingerbread house designed to perch on the edge of a festive cocoa or coffee mug.
Ken said that when he and Ming emigrated from Silicon Valley a decade ago, where he worked in advanced computer technology, "I always wanted to start a restaurant of my own."
The couple, who were the only staff a decade ago, now employs six people to handle the volume, but Ken and Ming have resisted the pressure to open other restaurants. Ken said that staying small has been a big part of Le Den's success, despite many offers to franchise their thriving business. "It is not easy to compete with big restaurant chains," Ken acknowledged. Le Den has done so by creating a place where you feel at home.