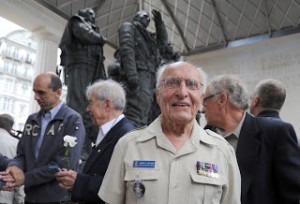 WWII Bomber Command pilot and POW: Recognition "should have come years ago"
By Robert Frank
www.thesuburban.com
Pointe Claire retiree Jim (Jake) Watson was one of 43 Royal Canadian Air Force veterans who flew to London last week, where Queen Elizabeth II unveiled a monument to those who served in Bomber Command during World War II.
Mr. Watson is grateful that at last there is some official recognition for Bomber Command crews.
"It's just a shame that there are so few of us left," he told The Suburban in an interview. "It should have been done years ago. Most of us are 90 or more."
"I was very lucky to survive," he said.
Mr. Watson, 91, recalled that the bomber crews had a horrendous casualty rate—worse than in World War I trenches.
"Out of about 120,000 of us, 53,000 were killed," he said. "In Bomber Command, the chance of surviving a 30-mission tour was very slim.
He joined the RCAF on his way home, fresh from his 1940 high school graduation ceremony.
He told recruiters that he wanted to be a fighter pilot, "but they needed bomber pilots at the time."
A year later, he had earned his wings and boarded a ship, bound for Linton-on-Ouse, in northern England.
"By 1942, I was the skipper, responsible for the seven-member Halifax bomber crew," he said.
"We bombed the Renault works, which was making armaments in Paris, and submarine bases in southern France."
"I was also part of the first 1,000-bomber raid in May. It was to raise the morale of the English people because the Germans had bombed Coventry and London and they wanted to do something about that."
"I flew 12¾ missions," Mr. Watson explained. "I got shot down just outside Brussels on my way home from the 13th mission."
"They had invented a new method of installing cannons on the Messerschmidts to shoot vertically upwards. We were always flying at night, so they would get underneath you and open fire. We never saw them until we were hit."
Mr. Watson was captured by frightened German sentries, who shot at him after his parachute landed. He was able to reassure them, after he discovered that they could speak a little French. He remained a prisoner of war until his German captors disappeared just before the Russians arrived.
Soon after, he too fled the Russians and was hitchhiking his way along the Berlin-Hanover autobahn to get back to Allied forces when he learned that Europe was finally liberated on VE-Day.
Although he was a flight sergeant when he was shot down, the RCAF later promoted all pilots to officers, because the chivalrous Germans sent officers to POW camps where conditions were better.
"The Germans recognized my promotion and send me to a different camp," he said. "The food was no better but it was 10-30 to a room there, rather than a hundred."
In recent years, Mr. Watson tried to track down the pilot who downed his aircraft.
"There's no ill feeling," he said. "He was doing his job. I was doing mine."
"It wasn't them. It was the son of a gun who was leading them. A guy named Hitler. He was the guy we were after."
LONDON—Pointe Claire veteran Jim (Jake) Watson (facing forward) inspects the Bomber Command memorial just after it was officially opened by Queen Elizabeth II, June 28. The RCAF pilot was shot down in 1942, during his thirteenth mission over Occupied Europe and spent the rest of World War II as a prisoner of war. Seen on the far left is Canada's Minister of Veterans Affairs Steve Blaney.
Click here to view a video of Jim (Jake) Watson at the ceremony.
(He can be seen in a number of scenes from the four-minute mark onward.)