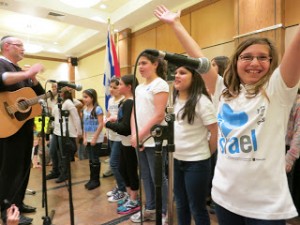 By Robert Frank
Inclement weather failed to douse Yom Ha'azmaut celebrations in Dollard des Ormeaux, April 26. More than 1,000 people ignored dark skies and cold rain to attend the Israel independence-day bash, which—at the last minute—organizers moved indoors to neighbouring Beth Tikvah synagogue.
"They come out regardless of the weather to have a good time," enthused Federation CJA event coordinator Hilary Ludwick, adding that "this is a fun-filled, free family event where people can mix and mingle and celebrate Israel and be proud of who they are."
Independence-day celebration organizers Elizabeth Puterman and Barbara Peisajovich again attracted a number of West Island dignitaries, including DDO councilor Errol Johnson, Pierrefonds-Roxboro councilor Jim Beis and Montreal police station 4 commander Michelle Lacoursière.
"Considering that this is the first time that we have conducted the event indoors, it was a tremendous success," said Mrs. Ludwick. The West Island celebration has grown increasingly popular since its inception in 2006.
"Many different agencies organizations were represented and some showed what they had to offer," Mrs. Ludwick added. "Face painting, for example, and arts and crafts where you could decorate your own kippah."
Students from École Maimonide in St. Laurent and Côte St. Luc also staged an energetic flash-mob dance demonstration on the floor of the main hall.
Mrs. Ludwick said that Federation CJA West aims to support the burgeoning Jewish population on the West Island.
"The community has grown," she explained. "The majority of our population is composed of young families and newlyweds who are coming here to start their own families, and there is a large number of seniors as well."
"People who grew up on the West Island are coming back," Mrs. Ludwick added, "because they know it is such a wonderful place to raise their families."
She noted that the Israel birthday festivities help to raise awareness of what Federation CJA does on the West Island.
"We deliver services within the community," she explained. "We're here to help people who need to find a job; who have trouble putting food on the table; who have family issues; and whose children are having various problems in school. We also have a very active program for seniors."
The Hebrew Foundation School Choir showed off students' talent under the direction of Amiel Bender, during Israel independence-day festivities in Dollard des Ormeaux, April 26.