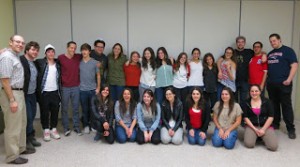 By Robert Frank
www.newscoverage.org
Twenty-six university and college students get together in Dollard des Ormeaux every Sunday night to study social action, community leadership and environmentalism.
In August, they will apply those lessons during a ten-day trip to Africa.
"We plan to visit several orphanages in South Africa serving child AIDS victims as well as a hospital for sick children," explained Dollard des Ormeaux Rabbi Mark Fishman, who initiated the project. "We will also get involved in hands-on work helping to construct part of a hospital, and visit Soweto to get an up-close understanding of what poverty and hunger is all about."
"The weekly educational seminars at Beth Tikvah Synagogue bring in humanitarian leaders from around the world who identify cutting-edge ideas," said Rabbi Fishman. "For example, Jeremy Hockenstein, who is recognized by the United Nations as one of the world's top-ten humanitarian leaders, visited Montreal to speak to us in April."
"He explained to the students how he created an organization that empowers hundreds of Africans and South East Asians, identifying technology opportunities which have given them financial incentive and security."
"The students will each pay $2,500 for the South Africa trip," noted Rabbi Fishman, "plus they are each responsible for raising a further $1,000 that will be used in Africa to purchase materials for the hospital, for example."
"That represents about half the cost of the trip and materiel. The other half will be covered by the Eddy and Heleena Wiltzer Leadership Centre and Beth Tikvah Synagogue, together with community donors such as Gen J, Jewish Community Foundation of Montreal, and Caisses Populaires Desjardins."
Although all current participants are Montreal Jewish students, "we are in the process of looking at how to bring in a broader societal base and conduct a combined trip together with non-Jewish students," added Rabbi Fishman. "While we are not close to achieving this objective, it is being discussed at the moment."
"This is a new wave of programs for young adults. They learn the Jewish perspective on social action and caring for others and the ethics of responsibility, which they then put into practice."
The student cohort, which includes several pre-law and pre-medicine students, are "exemplary stars of the future," beamed Rabbi Fishman. "Many want to serve with Doctors Without Borders or study experimental robotics, for example. Their desire to make the world a better place is just outstanding."
After their sojourn in South Africa—which will be transmitted back to Canada live through blog updates by an experienced videographer—they will travel to Israel for a ten-day trip that "will allow the students to see the country up close and personal."
Rabbi Fishman explained that the second leg of the journey "is one of two pillars of the Jewish community."
"The other is called March of the Living," he said, "a heritage trip to Poland to explore World War II and the Holocaust."
"We're hoping by conducting this pilot project to create a third pillar," the Dollard des Ormeaux cleric enthused. "The general and the particular Jewish message to the world is: How can we care for others as well as ourselves?"
Individuals who would like to contribute toward the Africa relief project can contact Rabbi Fishman at: www.bethtikvah.qc.ca
Dollard des Ormeaux Rabbi Mark Fishman (left) will bring Montreal college students to Soweto in August, where they will witness poverty and hunger, and practice the caring and social concern that he has instilled in them.