With the NDP tanking and some polls showing the Conservatives taking the lead in Quebec when this week's edition of the newspaper went to press, the Conservatives' Quebec lieutenant urged Laval voters to hop on the bandwagon, during a visit to Laval, last week.
"I'm certain that we will be [re]elected," predicted cabinet minister Denis Lebel, "and Laval needs a seat at the decision table in Ottawa."
Laval hasn't had a seat at the federal cabinet table since 1996, under the Conservatives. Lebel doesn't foresee any other party being able to deliver one, and described Conservative candidate Roland Dick (pronounced 'deeke'), who is running in Laval les Îles riding, as "a man for the job."
"I intend to work for all Laval residents," Dick promised.
"Laval is important," Lebel said of Quebec's third-largest city. "I've met with city councilors and the mayor."
He cited the Conservatives' cordial relations with Quebec City and suggested that electing his party is the best way to keep that relationship harmonious.
"Which government in Ottawa has helped the Parti Québécois the most over the years?" he asked rhetorically. "The answer would be the Liberals."
"Since we've been there, there have been no fights," Lebel said. "We had many dealings with the [former] sovereignist government of Pauline Marois. Have you seen many big fights? No. We respect the jurisdiction of provincial governments across the country, including Quebec."
"We're working together to build a future for our population, not to squabble with one another," Lebel continued. "That's how we have always managed the country since there was a Conservative government and that's what we will continue to do."
"I'm from Lac St. Jean," he concluded. "For me to be a Quebecer and a Canadian are one in the same. [The Conservative party] is fielding its strongest slate of candidates ever. We need those men and women to continue to represent Quebecers' values in Ottawa."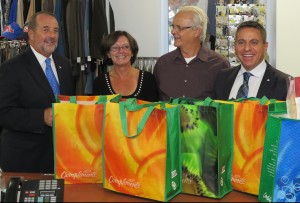 Conservative Quebec lieutenant Denis Lebel (left) and Laval les Îles candidate Roland Dick (right) delivered food, Oct. 7, for La Rosée manager Lyly Lanouette and ceo Régent Lachapelle to use in their meals-on-wheels program. (Photo © Robert Frank)