Extracurricular activities spiked
Teachers have voted to give their union locals a strike mandate. Last week about 50 per cent of Montreal Teachers Association (MTA) and Pearson Teachers Union (PTU) members cast ballots approve a six-day strike mandate.
"Last Thursday, 77 per cent [of them] voted in favour, but we will go back to members after three [strike] days to get a reaffirmation," said MTA president Peter Sutherland.
"Pearson teachers voted 80 per cent to approve the six-day strike mandate," said PTU president John Donnelly.
"Pearson teachers' primary issue is the increased class size that the government wants to implement and cancellation of support for special needs students," Donnelly said in an interview.
"It's something that we as teachers cannot accept nor should parents and the public, either," agreed Sutherland.
Both MTA and PTU are working in lockstep with the province's other teachers and public service unions.
Both union locals are negotiating along with the Quebec Provincial Association of Teachers (QPAT), which represents some 8,500 English teachers in Quebec as well as the federation representing nearly 60,000 French teachers, as part of a common front that includes the three other big union federations that represent other public sector employees.
The common front strike vote will close down the entire education sector, including CEGEPs, QPAT president Richard Goldfinch told The Suburban.
"All ten locals have voted by majorities of 70-90 per cent for up to six-to-eight days of strike action," he said in an interview. "Those are some of the strongest strike mandates that we've seen in quite a long time. Teachers are really, really angry and are willing to let the government know it."
"Teachers want more support in the classroom, smaller classes and [continued] support for special needs students that the government wants to remove," Goldfinch explained. "We're perplexed by the government's latest demands. We don't understand why they've gone back to where they started."
Dialing for dollars
The dispute is also about money. The starting salaries a Quebec teacher is about $42,000 and rises to about $78,000 within 17 years. The unions say that Quebec teachers are the lowest-paid in the country. However, direct comparisons are difficult because salaries can vary widely by region in other provinces like Ontario.
"[The government] wants to add three hours to our weekly schedule and tell us what to do with all 35 hours," Goldfinch complained. "To add insult to injury, they have not offered us any real salary increase: Just three per cent over five years. We're negotiating together with the common front, which is asking for 13.5 per cent over three years."
"We're going to see fewer and fewer people signing up to become teachers, because they won't have a very good paying job," he warned.
Rotating walkouts pending
Goldfinch expects the strike to commence sometime after the Oct. 19 federal election, with Oct. 28 as a possible date for the first walkoff, Donnelly told The Suburban.
"The strike situation seems to be gelling in terms of dividing the province into four regions," Pearson Teachers Union president John Donnelly said in an interview "In the first go round, each region will stage a one-day strike with nurses, teachers and public servants [there] all going out."
"At that point we'll assess the lay of the land and then another round that might be two days or perhaps go for a province-wide strike," he continued. "We have to give parents seven days notice."
Sutherland was less committal about the strike action.
"We don't have our dates for the first strike," he said. "I don't think that the decisions have been made final yet." After-school fun axed
In the meantime, teachers have shut down the fun-filled educational activities that are what most people remember about school, long after they graduate. Students have faced a blanket boycott of extracurricular activities (ECAs) since the start of the school year.
"Our teachers voted 91 per cent in favour of putting a ban on extracurricular activities," Donnelly reported. "That means that there won't be ECAs by the teachers unless they have already committed money to an event and can't get the money back. Then they would continue. Other than that, there are no activities. Teachers are already working to rule. Teachers do what they are paid a salary to do, namely be in the school 37 hours a week: 32 hours in the classroom and five other hours of pedagogical work."
The situation is similar at EMSB.
"Some schools might choose to bring in parents as volunteers and there are a couple of schools that already have employees who are not teachers whom they hire to do some of these activities," Sutherland said. "A few schools, but not many."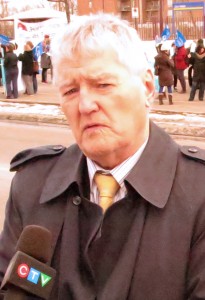 Pearson Teachers Union president John Donnelly (Photo © Robert Frank)