Despite the doomsaying this spring, Lester B. Pearson School Board (LBPSB) will weather the austerity storm, according to LBPSB chair Suanne Stein Day.
"We face real challenges, but we expect our best year ever," she said during LBPSB's council meeting, Aug. 31.
In June, the school board axed its documentation technicians who run elementary school libraries, and fretted publicly about the prospect of September school closures and special needs cuts.
On Monday, Stein Day reported that the school board will sustain its special needs program. Support staff union leader Anita Nenadovich confirmed that employment levels for LBPSB integration aides have so far remained similar to what they were last year.
Likewise, LBPSB has reversed its position on library cuts. Yesterday, as this week's edition of The Suburban went to press, the school board was getting set to call back many of the documentation technicians whose positions were abolished in June.
"We have to look at the whole scenario before we commit to exact numbers," said LBPSB's new director general, Michale Chechile. "There will be resources in every school library."
Although they will return for the current school year, Chechile added, given the vicissitudes of the provincial government's austerity measures, there is no telling what might happen to those positions next year.
LBPSB commissioners unanimously passed a $276.6 million deficit budget, Monday. According to Stein Day, past surpluses will pay for the school board's $1.66 million shortfall this year.
Meantime, school tax hikes continue to outstrip inflation. The average school tax bill rose nearly 3.6 per cent, and could spike if a proposal the province has mooted takes shape.
"There has been some talk about a province-wide [school] tax rate," Stein Day said. "That would incur a $100-million-plus burden on the island of Montreal, because property values here are higher than in the rest of Quebec."
LBPSB's international program remains its sole growing source of revenue. Selling educational services to foreigners will net the school board "in excess of $2 million" this year, Stein Day said.
The school board has begun a new initiative to train Spanish teachers who must teach English.
"Spain announced that it will be mandatory to teach English in all schools," she said. "Who pioneered teaching second language English?"
Stein Day emphasized that no resources are being diverted from classrooms to fund the program.
"Every piece of toilet paper is charged to the international department," she said. "Teachers are not paid by the vocational budget; they're paid by the international budget."
More cuts, strike looming
Although the Quebec government backed off on its demands that schools operating under 50 per cent capacity be closed immediately, the pressure to rationalize by next year remains.
Between now and October, LBPSB will receive proposals on how best to streamline its schools.
"We will hold town hall meetings in November to analyze the briefs in greater detail," Stein Day said, adding that LBPSB commissioners will be decide the direction they will take at their Dec. 14 meeting.
"It could entail closures, repurposing or new programs," she told reporters. She added that a summer spent grappling with austerity pressures has precluded any discussion so far.
"We haven't even had a closed-door conversation with administrators, we've been so focused on budgets," she declared. "Last time we embarked on major school change, we sent them back to the drawing board four times."
With English enrolment continuing to plummet, fourteen LBPSB schools were already hovering near or below the 50 per cent capacity mark at the end of the last school year. They are:
Elementary schools: Christmas Park 54%, Sherwood Forest 51%, Springdale 48%, Thorndale 44%, Orchard 57%, Riverview 59%, Verdun 27%.
High schools: Beurling Academy 53%, Horizon 50%, Lakeside 38%, LaSalle 58%, Pierrefonds Comprehensive 54%, Riverdale 45%, Westwood Junior 51%.
In addition to its enrolment and budget woes, LBPSB faces the prospect of a strike vote by its teachers at the end of this month.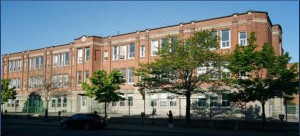 Verdun Elementary School operated at 27% of its capacity last year.