City Councillor Alain Lecompte is disappointed that the city hasn't approved his proposal to build a free winter toboggan run in his Orée des Bois district.
Lecompte said that he was surprised to discover that the urban planning department had approved the construction of two homes which he had wanted the city to purchase to develop the park.
"It would not have been too expensive [to acquire that land]," he told The Suburban. "$1.5 million is not a lot for a project like that. It's not much in terms of the overall Laval budget."
"There are no [recreational] facilities like that in Laval west of Highway 15," Lecompte said in an interview. "Citizens are complaining that the only place [in Laval] to enjoy that sort of activity is the Centre de la nature."
"This project would serve families not just from Orée des Bois but also from Marc-Aurèle Fortin, St. Martin, Chomedey, Ste. Dorothée and Laval les îles," he suggested.
Not dead yet
Robert-Charles Longpré, a senior official in Mayor Marc Demers' office acknowledged that Lecompte had pitched his proposal to the city, but that it still needs more work if it is to pass muster.
"It wasn't really viable in its current form, but that doesn't mean that the project is dead," he told The Suburban in an interview.
"[Councillor Lecompte] is welcome to develop the proposal further and present it again, if he wants," Longpré suggested. "We will not turn down any project that will serve Laval residents well. We won't let down the people who live in those districts."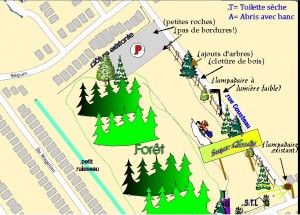 Details of the proposed Orée des Bois toboggan run are available at Councilor Alain Lecompte's French-only web site www.oreedesbois.info