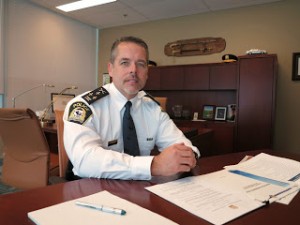 By Michelle Pucci
www.thesuburban.com
A day following the arrest of 10 youths in Montreal suspected of joining jihadists, Laval's police chief announced he will continue to work on prevention with community leaders.
Laval's police chief Pierre Brochet was speaking at Laval's convention centre during a seminar on radicalization, which gathered 260 people from the police community. The conference featured presentations by Université de Sherbrooke professor and political scientist Sami Aoun and journalist Aziz Farès.

"[Radicalization is] a new phenomenon that we have to deal with," said Brochet. "We have to prepare and adapt."

Brochet says Laval police plan to mobilize the local community and create partnerships between social services, health services and educational institutions on the anti-radicalization front.

"The message I would like to send to citizens is if you know somebody is being radicalized, it's really important to call police services," he told The Suburban.

The police chief emphasized the importance of prevention, because these situations are "really dramatic for parents and communities." Police services in Laval, such as the intelligence division, will continue to work closely with the RCMP, Montreal police and provincial forces, Brochet said.

"Local police have the links and relations with the community—that's the base. If you don't have relations with the community, you won't have information that this is happening."

Brochet met with Arab and Muslim community leadersrecently to discuss the possibility of radicalization among their membership, but also to ensure that these groups do not feel ostracized.

"It's important to work with them to be sure that if there is information about this issue that they're going to call us," he said.

"Chomedey is some sort of laboratory of culture. There are 44 cultures, so living together is so important," said Guy Ouellette, National Assembly representative of Chomedey and parliamentary assistant to the Minister of Public Security.

Ouellette is also a former SQ officer. He supports demands from police for increased communication and information, especially since extremists are targeting new recruits online.

"When I was a police officer it was a problem that politicians were not able to follow what was going on," Ouellette said.

"We cannot forget that we're at war with ISIS. The more we are informed, the more we will be safe and the more we will have joint operations like the one [last] week."

On May 19, the RCMP arrested 10 Montreal youth suspected of heading to Turkey and Syria to fight with jihadists. Their passports were confiscated and no charges were laid.