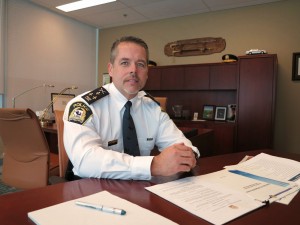 By Tracey Arial
www.thesuburban.com
Anyone who calls Laval's new anti-corruption hotline can remain anonymous if they choose.
So said Laval police chief Pierre Brochet when asked to clarify a guideline in the operations policy manual that requires Laval employees to inform managers about corruption, fraud or other misdeeds before using the hotline.
"An employee could call the line and remain anonymous," he said. "If you are a blue collar worker, you should tell your superior, but we are going to protect whistle-blowers. We will not accept negative ramifications or threats. All the directors have said they will respect that concept."
Although the hotline functions as an integral part of Laval's ethics and integrity office (Bureau d'intégrité et d'éthique de Laval or BIEL), Brochet says that the city bureaucrats who head the office (city manager Serge Lamontagne, human resources director Marc-André Vigeant, legal department manager Patrice F. Guay and assistant general manager for administration Carole Imbeault) will not interfere with investigations.
"I'm independent," he said in an interview with the Suburban last week.. "The administrative committee is a place to reflect on ethical situations, but they will not be involved in the practical level of the organization. We have a separate office for the hotline operations. We guarantee that calls will be confidential."
Anyone who does provide their name to police can get feedback about how the investigation into their complaint is progressing, but callers can provide tips without giving their names. Anyone who has no confidence in local police can dial two to reach the provincial unit investigating corruption (UPAC) directly.
"When I arrived in Laval a year-and-a-half ago, one of my goals was to do the best I can to fight corruption and collusion," said Brochet. "I proposed a new model to do this. I have a new unit to do it."
Brochet says he has three investigators in charge of administrative complaints, while two police officers and an analyst are investigating criminal issues. The criminal investigators are being led by Inspector Chantale Sicard, but Brochet didn't provide the names of anyone else within the unit.
He plans to provide an annual report about BIEL hotline operations directly to city council so that the public will be fully informed. The first report will be due soon.
(function(i,s,o,g,r,a,m){i['GoogleAnalyticsObject']=r;i[r]=i[r]||function(){
(i[r].q=i[r].q||[]).push(arguments)},i[r].l=1*new Date();a=s.createElement(o),
m=s.getElementsByTagName(o)[0];a.async=1;a.src=g;m.parentNode.insertBefore(a,m)
})(window,document,'script','//www.google-analytics.com/analytics.js','ga');
ga('create', 'UA-45892555-1', 'auto');
ga('send', 'pageview');
Laval Police Chief Pierre Brochet